The search for the perfect holster never ends.  I think this is very true because the idea of the perfect holster is different for everyone based on needs, wants, body type, firearm and method of carry (to name a few differences).  I find myself always looking for the next best thing, even though everything that can be done with a holster, largely already has.  In today's market, Kydex is the popular medium of material for concealment holsters and they are everywhere. 
From self-made to production line, the Kydex holster market is saturated with options and because there are so many options, it becomes difficult for someone who is new to guns, or new to Kydex to find a good fit.   Public opinion can influence the buyer as well, and public opinion still has not largely figured out that holster shapes and sizes are determined first by two things; firearm shape and body shape; everything after that is durability and aesthetics.
But the holster doesn't lie; if you wear it and it doesn't work for you, it won't be long before you are looking for something else; the popular opinion be damned, what doesn't work for you just doesn't work for you.   I have a rather large collection of holsters I will never use again.  They tried and failed to win my favor for different reasons and I find myself now with a small number of excellent choices.
For inside the waistband carry I am very critical of any holster because it needs to be comfortable and well made, it needs to ride just right and it needs to be modular enough that it can be used in different positions. Since I prefer a zero cant design no matter where I carry, it should not be difficult for a holster to fit these requirements.  Shouldn't be.  Truth is, outside of a leather holster, I have never been happy with a single IWB holster.  I have (and continue to use) leather for IWB carry.  Perhaps a shocker, since leather isn't the sexy these days but my Covert Carry from WBC has served me well and I am now on my second (leather wears out, replacements are inevitable).   I own a few IWB Kydex holsters and they work, but "work" and "this is the greatest thing ever" are not one and the same.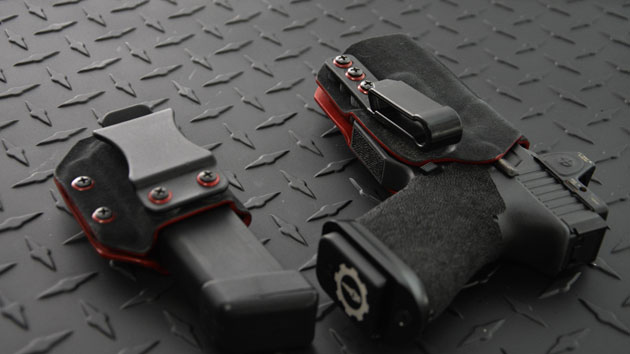 At SHOT 2015 I met Jeremy from Gun Craft and after talking holsters for a while he asked if I would be interested in running one of his IWBs.  Always looking for the unicorn of IWB Kydex, I agreed.  What he sent me a short time later was a visual work of art; blood red Kydex coated in a suede-like (and I say suede-like on purpose) material.  The edges were smooth, extra material at a minimum; no bulk, no wasted space.  The Krypto holster and a matching Rapid pouch looked amazing, but how well would they perform?
I default to a hip carry position.  Appendix is still not a favorite carry position to me, but I do use it when I must.  Any holster has to be constructed carefully for appendix carry to be a comfortable option, and this is just as much about the shape as it is the depth of the mounting method, and where on the body of the holster that method sits.  The minimum width of a holster is the size of the firearm plus its material; the thicker the firearm and the thicker the material, the bulkier the holster.  Positioning the mounting method in the thinnest area of the holster allows for a closer-to-the-body presentation; ideal for hip and appendix carry.  Of course this method also has to allow the weapon to be drawn without the gun being pinned to the body or belt line.
Contrary to some beliefs, holsters need to be designed for more than just carrying the gun.  They have to complement the body, the draw and the security of the weapon.   I'm hard on holsters, even IWB types, so durability is a big requirement for me as well.  From my personal practice to teaching, my holster goes through hundreds of draw repetitions each day on the range, are knocked around, compacted by body weight and strained by manipulation in awkward positions.  Added to that, weapon retention and defensive tactics training sees my holsters suffer additional hard use.  I can't say I've broken many holsters in my life, I don't know what number would qualify as "many" but I have broken a few.  The Krypto has been my regular carry for months now and it's as sure as it was on day one.  But everyone knows that there are many dependable holsters out there, so what sets Gun Craft apart?
Attention to the shooter, and what the shooter does, what the shooter needs is what makes a great holster company.  The cut and finish of the Krypto is smooth, concealment minded.  Interior finishing prevents frame drag and the sight channel allows for traditional and suppressor height fronts.  The suede-like covering is a closely guarded secret, a material born in the auto industry that insulates heat; not so important until you factor in running a concealment class and having to repeatedly holster a hot gun.  The cover material works; running fast, full magazine strings in between holstering, I measured frame temps up to 250 degrees and was able to continue running from both hip and appendix without discomfort. Overall durability hasn't really crossed my mind during the review; it's just there.  Few moving parts (as with most holsters) leaves little to worry about.  The J-hook isn't prone to shifting and its placement aside the trigger guard, as opposed to on the body of the holster, lets the Krypto sit closer to the body and print less against clothing.
And what about the magazine pouch?  It's still very popular to run magazine pouches outside the waistband even for those who prefer an IWB holster for their carry gun.  I was one of those people for a long time; about the time that a hip flexor injury forced me to reevaluate my feelings on appendix carry, I began running my spare EDC magazine midline of my body, inside the waistband.
Even when I carry hip, I run my spares appendix.  The Rapid pouch sits low, allowing for higher capacity magazines than other pouches I've used.  I have no trouble at all running a spare 17+3 magazine in the appendix, though honestly I wish it sat a little lower for such; if you are carrying a traditional magazine (minus added capacity floorplates) in the Rapid, concealment isn't an issue.  Since the Rapid has a belt clip as opposed to a loop, you are much more likely to leave it at home for quick trips or when you just don't feel like threading a loop pouch onto your belt; another bonus.
As a package, the Krypto/Rapid is a great EDC choice.  Has Gun Craft reinvented the wheel?  No.  Do they make "game changers"?  No.  They produce quality equipment with training and everyday carry focused design that holds aesthetics as an important addition to function.  Each holster and pouch is available in multiple colors and combinations, the suede-like coating is likewise available in various colors and a unique stitching is yet one more finish option.   In a world of many great holster companies (and unfortunately, just as many bad) Gun Craft is providing a good option for function and appearance.
Anyone looking to buy gear with their priorities in that order should give Gun Craft a look.