When KeyMod first made the move from industrial shelving to the firearms world, I'll admit I was pretty excited.  I don't like excess weight of unused 1913 rail space, so much so that I went to the modular style of rails back when the only options on the market cost three or four times what they do today.  So KeyMod was the obvious evolution.  It made accessory attachment easy and didn't call for sections of 1913 rail to be attached where attachment points were needed, as they were often more space than I needed to mount sling attachments, lights, grips or other accessories.
KeyMod however did have a weakness; they tended to be smaller in circumference, which put the rail closer to the barrel.  This creates a heat sink of sorts, and can quickly become uncomfortable for the support hand as barrel heat is absorbed by the aluminum rail.  The rifle I use the most is a Novekse with Noveske's NSR KeyMod rail.  All around, it's a good, durable rail but it's one weakness is that it collects heat quickly and doesn't let go of it as quickly as I would like.
A normal solution with rail heat is to attach rail covers at contact points to block heat transfer.  There are a few choices out there that allow rail covers to be attached directly to a KeyMod rail, Noveske produces their own and in my opinion it's an awful product.  It weighs nothing, which is nice but it's made of thin ABS plastic with a friction/expansion based attachment system (as opposed to torx or hex anchors) that is inconsistent enough to possibly require direct force, mallets, prayers and/or a lighter to attach.  I had a set, hated it and threw it away after a few weeks of use.  At that point I pretty much resigned myself to there not being a good option out there despite continuing to look for one.
Then Bill Coye and Derek Shelton came up with one.  Bill of Coye Knives gave me a call and told me about a product he and Derek of Asset Weapon Manufacturing had been working on – KeyMod rail covers made of G10 called RailScales.  He had my attention.  When Bill told me how they attached to the rail and ballparked the overall thickness of them, he had my interest.
I received a set of the long panels two days later to test.  A simple package, three RailScale panels, attachment tool, directions and some sticker swag.  I mounted two on my NSR and my first impression was the tolerances; they mount tight with zero play.  The RailScale panels measure just shy of 4 inches in length, long enough to protect the average hand in a wrap-around grip.  On the thickness side, they have .16 of an inch maximum thickness, which is pretty damn thin.  The durability of G10 is already well known so I didn't bother spending much time researching the material, as most people who are looking to possibly get a set or two of these won't either.  The real test is always on the range, so that's where I went.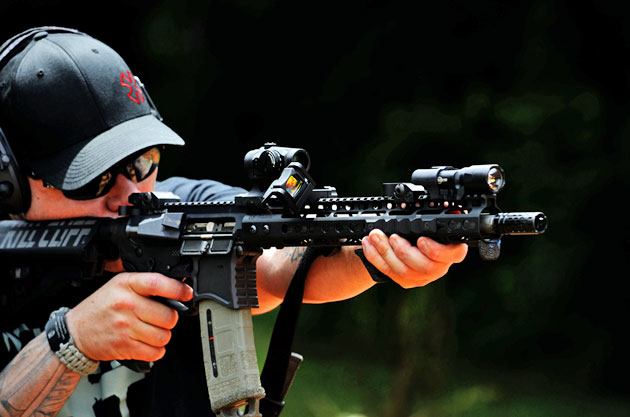 Let me just say this first.  I have developed some decently impressive calluses on my hands from exercise and shooting, so for quite some time I would run the gun with no covers at all.  The heat was uncomfortable sometimes and others it was very uncomfortable but I managed.  Gloves serve a purpose but I often don't bother with them unless I know I will need them (mainly if I expect to deal with glass, wire, needles or other pokey things).  So with a set of Rail Scales mounted I honestly didn't expect to see a huge difference as I am already used to shooting without them. A difference was noted.
The Rail Scale panels grip well, which should be a given with their design.  The shallow and wide groves can be used as finger index points or just additional hand traction.  The G10 material absorbs heat transfer from the barrel and kept me from burning my digits even with some sustained fire that got the barrel up into the don't put that down in the dry grass temperature ranges. I have run the Rail Scales through a few full days of rifle use at this point and I'm convinced that I wish I would have thought of them first.  When wet they do not become slick, the mounting hardware didn't loosen even with some serious fire and jostling of the rifle and they do not increase the overall thickness of the rail to make my chosen grips uncomfortable or force me to make minute or serious adjustments.  Even if someone were to cover their entire free rail space in Rail Scales, the added weight would be minimal and the protection obviously greatly increased.
When I spoke with Bill and Derek at Blade Show in Atlanta about the production methods and overall design idea behind them, I was impressed with the thinking that went into what appears to be a simple design (which it is) but what isn't evident is the end-user focused attention to detail. So in short, I'm sold. I plan on picking up another set or two to protect against secondary contacts with a hot rail (the sling, and rail to gear contact) and am eagerly looking forward to the RailScales handstop that is in development. If you are looking for a KeyMod rail cover, just buy these, you won't be disappointed.
RailScales are now available at GetRailScales.com – better hurry though, at the time of writing, they were almost sold out of the first batch.