A few months ago Brandon asked me to review a pair of "spy" glasses that have a built in camera in them.  Being somewhat of a techno geek I was interested in giving them a try but wasn't real sure what to expect as I have seen several different types of "spy" glasses marketed and didn't know what was going to show up.  I was actually very surprised when I opened the box and found the SpyTec Inventio-HD glasses inside.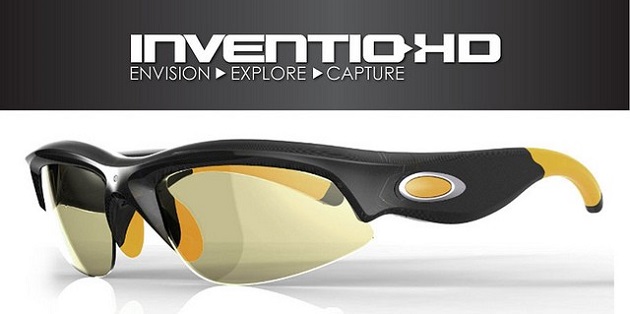 Specifications
720p HD Video Recording at 30FPS (.avi format)
8GB of Internal Storage (Not expandable)
Built in Video Stabilization
5mp CMOS camera
16-bit Audio
Rechargeable Li-Ion Battery
Initial Impressions
When I first opened the box I was happy to see a sportier pair of sunglasses that I wouldn't mind being seen wearing out in public. The package came with the glasses, three pairs of lenses (grey, clear, blue mirrored), a nice zippered carrying case, neck strap, cleaning cloth, and a USB cable.
The only thing that I really didn't care for during my initial inspection of the glasses is the use of yellow on the ear and nose pieces. This is just a minor detail, but I am somewhat of a low-key person so I would like to see them offered in a sold black or even a more subdued color than bright yellow.
After an initial once over of everything I plugged the glasses into my Macbook and left them to charge overnight per the included instruction book. I returned the next morning to find them fully charged and ready for use.
Field Use
For those that haven't been to the site before or not read over my bio I live in the Mountains of NC. The terrain can be unfriendly at times and the weather can change from hot and sunny to windy and rainy in a matter of a few minutes. My first test of these glasses would expose them to both conditions.
I decided to take a short ride on one of the local mountain bike trails and see how the camera performed with its "advanced video stabilization" when exposed to the bumpy terrain of a local mountain bike trail. The day started out beautiful with little chance of rain and turned into riding through a brief thunder storm.  Fearing that the glasses would succumb to water damage I decided to pick up my pace and ended up crashing near the end of the ride.  The glasses hardly moved and no damage was noted to them (my pride was a little banged up though). When I made it back to the car I realized how wet they ended up getting during the ride and was a little concerned about how the electronic would hold up.
When I got home I plugged them into my Macbook to check the video files and was a little worried when it did not recognize them. My first thought was the water exposure had killed them and that was going to be the end of this review. Then I realized I wasn't using the supplied USB cable and had them plugged in with the USB cable for my Canon DSLR. A quick cable swap and we were back in business (or at least I thought we were). I started going through the files on the camera and found that I had got my on-off sequence mixed up and when I thought I was recording I was actually not so all of the video from this trip is useless files of me standing around when we would take breaks (I will discuss this further in the next section on what I would change).
The next test I had for these glasses was going to be a little different than the first and that test was to take place during some firearms training at work. I replaced my range glasses (Oakley Flak Jacket) with the video glasses fitted with the grey lenses for range duty.  This time I double checked what mode I was in and had better results when it came to video recording.  The glasses held up well and the video was surprisingly stable considering they were subject to recoil from a 12 gauge and a .308. And while the lenses are not impact rated like my Oakley's they did protect my right eye from a small piece of rock that was kicked up during one of the drills with only a minor scratch on the lens.
SpyTec Inventio-HD Video – Carbine Shooting Drills
What I Would Change
I think any fair review of a product should always include things that could possibly be changed to improve the product. I only have a few things I think could be improved with these glasses.
The first thing is the color. As previously mentioned, I am just not into the bright yellow and would like to see an option for solid black or another more subdued color.
The second thing is to add some auditory signal to the recording mode. The LED embedded in the glasses is extremely hard to see in bright sunlight and cannot be seen with the glasses on.
The final thing I think could use improvement is for the glasses to work with any available mini USB cable and instead of the proprietary cable. I always have a standard mini USB for use with my DSLR and card reader and having to carry an extra cable to download video for the glasses is unnecessary in my opinion.
Wrapping Up
With the current price and available features these glass are very hard to beat. They offer great resolution and 8GB of storage in a compact package that does not draw near the attention that something like a GoPro would; and with the camera lens centered between your eyes it captures an accurate point of view.  Knowing what recording mode you are in can be a little hard when you first start using them and I would like to have some kind of auditory indicator in addition to the LED indicator but I would still recommend them to anyone looking to record their adventures without the bulk and expense of a GoPro set up.