Today I'm happy to announce that the Monderno logo Coye Knives Ridgeback giveaway to raise money for Paws and Stripes is now live.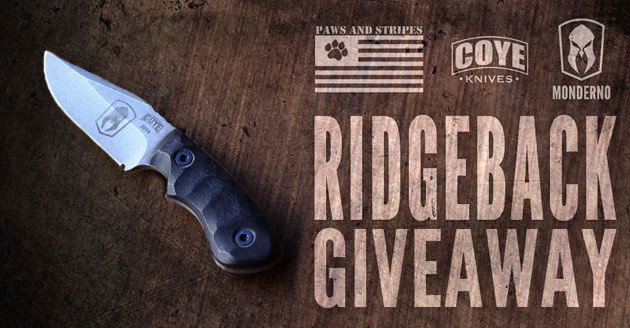 About the Knife
If you're not familiar with Coye Knives or the Ridgeback specifically, you can read my full review here. The short version is that the Ridgeback is a custom made, small fixed blade made from Bohler N690 stainless steel. It has an overall length of 6.25″ and a blade length of 3.25″, and normally sells for around $325.
Thank you to Bill Coye, who generously donated this Ridgeback for the giveaway.
About Paws and Stripes
If you're not familiar with Paws and Stripes, it's a nonprofit organization that provides service dogs for wounded U.S. military veterans with Post Traumatic Stress Disorder (PTSD) and traumatic brain injuries. The dogs, which come from shelters, along with highly trained service dog trainers, work with the veteran/dog teams, all of which is provided for free to the veteran.
Any veteran from any war knows the suffering involved with Post Traumatic Stress Disorder (PTSD). And now with so many men and women returning from the Middle East, the number of veterans in our country with PTSD is staggering. Add the frequent incidents with improvised explosive devices (IEDs), and you have a significant increase in Traumatic Brain Injuries (TBI) as well. Insurance companies do not cover service dogs to assist veterans with symptoms of PTSD and TBI — which often come together. The usual costs of getting a service dog are great: from $10,000 to $30,000 and sometimes up to $60,000, and would often include countless months seeking grant money to fund the purchase. The cost to complete canine training for a Paws and Stripesâ"¢ veteran/dog team is a minimum $2,500 and Paws and Stripesâ"¢ covers the cost through donations. The veterans never pay a penny.
Learn more about Paws and Stripes.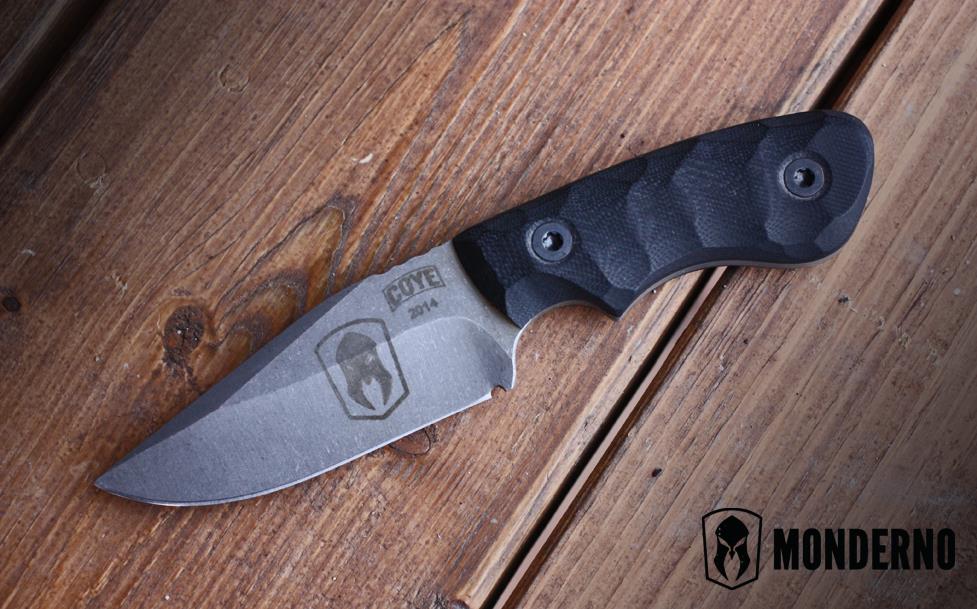 How to Enter the Giveaway
This is a fundraising giveaway, and to enter, you must donate to Paws and Stripes. For every $10 you donate to Paws and Stripes using the link below, you get one entry into the drawing for the Ridgeback. The money goes directly to Paws and Stripes, a 501(c)3 Non-Profit, and is tax deductible.
Here are a few examples for the mathematically challenged. Please note that you can donate any amount you want:
| | |
| --- | --- |
| Donation | Entries |
| $10 | 1 |
| $20 | 2 |
| $30 | 3 |
| $100 | 10 |
| $1,000 | 100 |
Hopefully you get the idea. Since we are raising money for charity, there is no limit.
On Monday, March 3rd, 2014, Paws and Stripes will send me a spreadsheet with names and donation amounts. I will then feed that list into random.org to select the winner, who will be announced on Monderno.com, as well as on the Monderno Facebook page.
Good luck, and thank you for supporting a great cause!
Click Here to Donate
Giveaway closed, we have a winner!