A little over two weeks ago we launched a fundraising giveaway to raise money for Paws and Stripes, a nonprofit organization that provides service dogs for wounded U.S. military veterans with Post Traumatic Stress Disorder (PTSD) and traumatic brain injuries. Today I would like to announce the total raised, as well as the winner of the custom Ridgeback.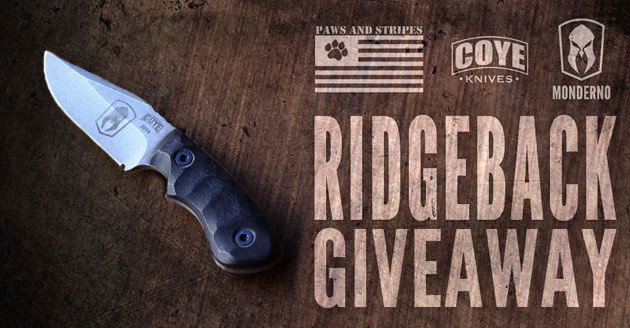 Total Raised and Winner
Thanks to everyone who participated, over $2,500 was donated directly to Paws and Stripes through this fundraiser. Thank you to everyone who donated! This morning, the folks at Paws and Stripes delivered a spreadsheet with the donations to my inbox, which I then fed into random.org.
The random space aliens have spoken, and the winner of the Coye Knives custom Ridgeback is Jesse V. If your first name is Jesse and your last name starts with V, please check your email and respond with your shipping address.
Thanks again for supporting a great cause!