I've had a love of AR-15's since I was a kid.  The first AR that I can remember shooting was in the early 90's and it belonged to my dad.  Fast-forward almost 20 years and it is still one of my favorite rifles.  I build them and also repair them for my department.  I've worked on Rock River Arms, DPMS, Bushmaster, Del-Ton, Spikes, and Colt.
I have never been one to get caught up in the this brand is better than that brand argument mostly because I had never personally owned a factory built AR. All of mine were frankenguns and the closest I had got was the Colt that my department issued me.  That changed after the election last year.
I was looking for parts to build another AR and because the president finally revealed his true colors when it came to gun control the parts were once again hard to find.  I had almost decided to give up and wait it out until parts were available. I changed my mind when I walked into my local Walmart and saw three AR's in the corner of the gun case.  A little paperwork, and $900 later and I was being escorted to my car with a new SIG Sauer M400 tucked under my arm.  I knew nothing about the M400 and picked it based the SIG name and some of the features.  After I got it home I learned it had a lot more features (some borrowed from the HK416 design) and was even happier that I went with the M400.
Specifications
| | |
| --- | --- |
| Caliber | 5.56×45 NATO |
| Overall Length | 35.5 in |
| Rifling | 1/7 |
| Number of Grooves | 6 |
| Barrel Length | 16.0 in |
| Weight w/out Mag | 6 lbs 5 oz |
| MSRP | $1054 (Street $850-950) |
| Ban State Compliant | No |
Features
SIG didn't re-invent the wheel when it came to the design of the M400, but they did add some features that I think really enhances it.  When I first picked it up I noticed they added two QD sling mounts at the rear of the lower receiver.  Being a QD sling user I like the idea of not having to add an aftermarket part to have this feature.  Another addition to the lower receiver is an ambidextrous magazine release, which works very well and has a rather simple design. The last design change to the lower receiver is the addition of a spring-loaded pin at the rear of the receiver that allows you to adjust out any upper to lower movement. The remainder of the parts are basic AR and it comes with your average mil-spec single stage trigger that breaks around 6 lbs. The buffer tube is 6-position mil-spec as well (some reviews list the buffer tube as commercial spec) and features a standard buffer.  The upper receiver is your basic flat-top AR upper with T-marks and M4 feed ramps.
The bolt carrier is a chrome lined "enhanced AR-15" carrier with a properly staked gas key.  The "enhanced" means the lower part of the tail section is longer than a standard AR carrier but shorter than the M-16 carrier.  Some folks will tell you the M-16 carrier is better but I have seen no evidence to back up this statement and can't imagine those few extra ounces of weight make the rifle function better.  The extra length on the M-16 carrier is only there for the auto sear to function correctly so it's not a necessary addition to a semi-auto weapon. The bolt is your standard AR bolt and according to the info I got from SIG it's MP tested but not stamped.  The extractor features a black buffer and also an o-ring for more reliable extraction.
I had a hard time finding accurate information on the M400 barrel and finally decided to go straight to the source and call SIG and was provided with the following information on the barrel. The barrel of the M400 is cold hammer forged from chrome moly vanadium and features a chrome lined bore and chamber with a 1/7 twist and are all HP tested but not marked. I was also told the M400 and the 516 share the same barrel and in the case of the SRP model like mine they also share a similar gas block with the 516's being modified for the piston system. Another feature of the M400 that was probably sourced from the HK 416 design is an extractor support pin located inside the barrel extension.  This small pin supports the extractor in the event of a case failure or over pressurization and can prevent a complete blow out of the upper receiver.
Function & Reliability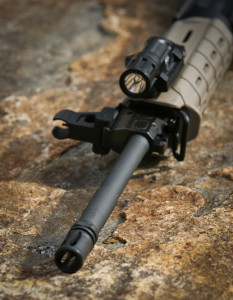 Living in the southern Appalachian mountains I have exposed the M400 to everything from snow to rain and even some freezing rain and so far it is running at 100% with no malfunctions of it's own to report. I've used metal mil-spec magazines as well as PMAG's and it has been flawless with both.  Most of the rounds through my M400 have been 55 grain .223 rounds but I have shot some 55 grain and 62 grain 5.56 rounds and even a few 69 grain and 77 grain match rounds through it to see how it would function with various ammo types.  Again it has been nothing but reliable and accurate.
Accuracy
The M400 isn't the most accurate AR I've owned but in my opinion this gun wasn't built with sub-MOA accuracy in mind.  So far the largest grouping I've seen from this rifle was just over 2 MOA at 100 yards with iron sights and 55 grain ball ammo. My smallest group came in at 1.25 MOA with 77 grain Federal Match ammo and a 3.5×10 Leupold MK4 scope mounted to it.
Dislikes
There are a couple of things about the M400 (one specific to the SRP model) that I don't like.  The first is the barrel profile.  For some reason SIG decided to use a profile that can only be described as ¾ of a lightweight profile. It's standard .750 at the gas block and then tapers down to a lighter profile before it steps back up a few inches before the flash hider. The other dislike specific to the SRP model is the gas block.  It's a huge chunk of aluminum and from talking with people who have removed it you will have to cut it off as it is pressed on the barrel and the pins are not easily removed.
Wrapping Up
The SIG Sauer M400 is definitely a gun to consider.  For the price I don't think you will find another AR with all the features and reliability that the M400 offers.  While it lacks some features that folks believe are important (M-16 carrier), it makes up for it by including features not found on other "mil-spec" rifles (extractor support).  It's also very accurate for a 16 inch carbine and is backed by a lifetime warranty from SIG Sauer. I highly recommend the M400 to anyone in the market for a new AR.