Are you one of those people who have always wanted a SIG 226 but couldn't convince yourself to drop close to $850 for it? Yeah, I was too. Well it is time to rejoice because now you can get a SIG for less than half of a new 226. I have to admit that I was VERY skeptical when I first heard about the SIG SP2022, but it is one fine pistol. I don't know how it slipped past my radar for so long, but I'm glad I finally found it.
Specifications
[styled_table]
| | |
| --- | --- |
| Weight w/ mag | 29 oz. |
| Length | 7.4 in. |
| Height | 5.7 in. |
| Width | 1.4 in. |
| Capacity | 9mm (10 or 15) .40 S&W (10 or 12) |
| Trigger | DA/SA |
| MSRP | $494 (Street ~$400) |
[/styled_table]
Ergonomics
The SP2022 is a polymer framed handgun with a Nitron coated rail. Although it may look a little chunky, it actually fits very well in the hand. I cannot say the same for the older 226's though, so if you have slender woman hands like me, take a look at the SP2022 it might just fit. Overall I think this is one sharp looking handgun. The SP2022 also comes with a picatinny rail so you can mount all the lights and lasers your heart desires. I do wish that the texturing on the front of the grip was a bit more aggressive though, it won't slip out of your hands but I do not have maximum retention either. It also comes with a second back strap so you get to pick your size.
Shooting Impressions
The SP2022 is as easy as pie to operate. It has no safety but is equipped with a decocking lever. It is a DA/SA pistol with DA pulling 10 lbs and SA pulling 4.4 lbs. The double action pull on this gun is heavy but very smooth, although I have to say I do not know much about triggers so definitely try it out yourself before buying one. The trigger reset does seem somewhat longer but again try it for yourself, your opinion may differ. The gun weighs 29 oz. so it is not particularly lightweight, but it is definitely lighter than a all steel SIG. It comes in either 9mm or .40 S&W holding 15 rounds of 9mm and 12 rounds of .40 S&W.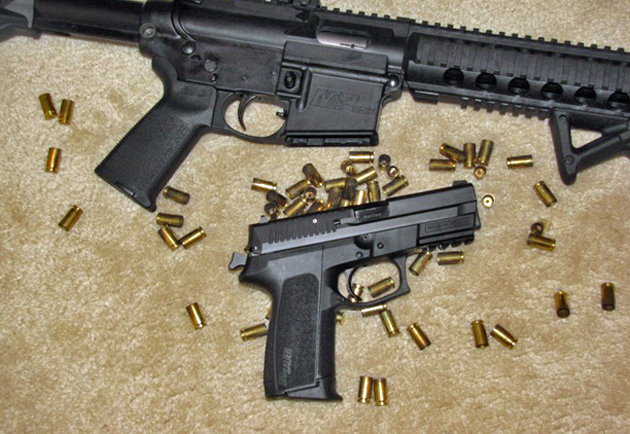 Intended Use
I cannot comment on the use of this gun as a concealed carry pistol because I don't have my license, so anything I say will be a guess and not helpful in the slightest. So you will have to judge that one on your own. One area this pistol would work well would be a home defense gun, because of the rail you can put a light on it and in my opinion the 9mm has plenty of stopping power with the right load. Another use for this gun is recreation, and this might actually be the most probable and best use of the pistol. If you buy the SP2022 you know you are working on a poor man's budget because if you weren't you would just pony up the cash for a 226. Also since it is chambered for 9mm you are not going to go bankrupt shooting it. Recreational shooting is this pistol's territory and where it really shines.
Downsides
A few downsides to the SP2022 are the aftermarket accessories, because this gun is not widely known it has limited holster options. Also magazines are very hard to come by and generally cost around $40 a pop.
Reliability
I have about 600 rounds through the SIGÂ so far and have yet to see any malfunctions. I have used Federal 115 grain round nose which seem to work very well in the gun. I would not hesitate having this gun protect me and my family if the need arose.
Wrapping Up
Now on to my favorite feature, the value. For how much gun you get for so little price is reason enough to go out and buy the SP2022. For around $400 you are getting awesome reliability, great ergonomics, and a gun that will last for a loooooong time. If you are new to handguns or are working with a very tight budget this is an option you should definitely consider.
Awesome value, reliability, and accuracy but the lack of accessories hold it back. Also there are better guns for not too much more like Glocks, M&P, XD, but if you are set on a SIG and can't afford the 226 then get the SP2022, you won't be disappointed.
Join me in welcoming Nate, a new contributor here on Monderno. Nate is relatively new to the world of guns and gear but has a real passion to pursue it. He wants to learn as much as possible and help others get interested in the firearms community.
–Brandon