The Smith and Wesson M&P 15-22 is probably the most popular AR-15 chambered in .22 LR that has ever been made. That popularity is very well deserved because of just how awesome the 15-22 is. The 15-22 is the perfect option for someone who wants to train using an AR but cannot afford to spend hundreds of dollars on .223/5.56 ammo (if you can even find it), which is exactly what I use it for.
Specifications
[styled_table]
MOE model
Capacity
25 round magazine (10 round mags available)
Length
33.75″ (stock extended)
Weight
5.5 lbs
Caliber
.22 LR
MSRP
MOE $600, Standard $500
[/styled_table]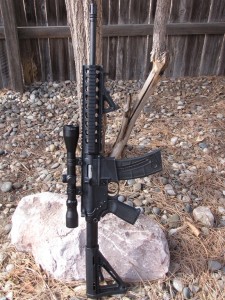 One thing I must get clear right away is that this is NOT a standard AR-15 with a .22 LR bolt and barrel. The 15-22 is built from the ground up to be a .22 LR and because of that it is missing some typical AR-15 parts, such as the recoil buffer spring, which being a blowback operated gun it has no need for. It is not possible to convert the 15-22 upper to another caliber.
The 15-22 has the exact same fit and feel as any AR-15 chambered in .223 or 5.56. It is ergonomically pleasing and shares the same design that made the AR-15 one of the most popular rifles in the world.
Accessories and Construction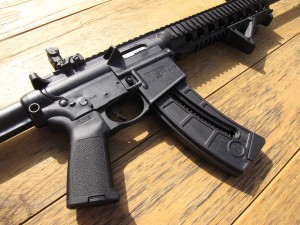 A big selling point of the 15-22 is that it is compatible with most AR-15 accessories (except the hand guard which does not come off the gun) such as, the stock, grip, sights, muzzle devices, etc. So if you are using this rifle as a training tool, this allows you to set it up with the same or similar configuration as your centerfire rifle or carbine.
The 15-22 is an all polymer rifle (including the quad rail) except of course the inside working parts. This polymer frame allows the gun to weigh just 5.5 lbs which is extremely light for an AR type rifle.
The trigger pull is smooth but not great, weighing in at approximately 7 lbs.
Pick a Model
This rifle comes in several different models. There is the standard version that comes with a 6-position stock, NON-threaded barrel, and fixed sights. They also make a version called MOE that is outfitted with Magpul furniture such as an MOE stock, MOE grip, MBUS sights, and a threaded barrel with A2 flash hider.
Accuracy and Use
As you may expect, this rifle can be fairly accurate, I can easily punch 3-4 inch groups offhand at 50 yards.
However, I use this rifle mainly for training because it keeps my ammo costs low while practicing with the ergonomics and controls of an AR-15. Another feature that makes this rifle shine in the training department is all the controls are 100% functional. On some .22 ARs the bolt catch and release does not work and are just for show. On the 15-22 however, both the bolt catch and release are functional.
Reliability
I have well over 2,500 rounds through my 15-22, a mix of Federal, CCI Mini-Mags, and CCI quiet ammo. Over that time I have had maybe 5 stovepipes or failures to fire. The only time I saw consistent malfunction was when I was shooting CCI quiet ammo (which travels subsonic and much slower than most .22 LR) and did not have enough power to push the bolt back to eject. It would fire but not eject, but that is the only time I have seen this gun have consistent issues. It is extremely reliable for a .22 and it works great.
Wrapping Up
Overall this rifle is amazing. I love that I can practice with a gun very similar to an AR-15 without spending a lot of money. I highly recommend any model of the 15-22, my preference being the MOE version for the Magpul furniture and threaded barrel. This is a wonderful training rifle, and it will serve you well.