The Walther PPQ, which stands for Police Pistol Quick Defense, is a semi-automatic pistol developed by Carl Walther as a potential replacement for the Walther P99. It is available in either 9mm or .40 S&W.
The PPQ isn't a complete new design from the ground up, as it takes design features from both the Walther P99QA and the Walther P99 RAD. Because of this, the PPQ maintains compatibility with both P99 sights and P99 second-generation magazines and other accessories.
Features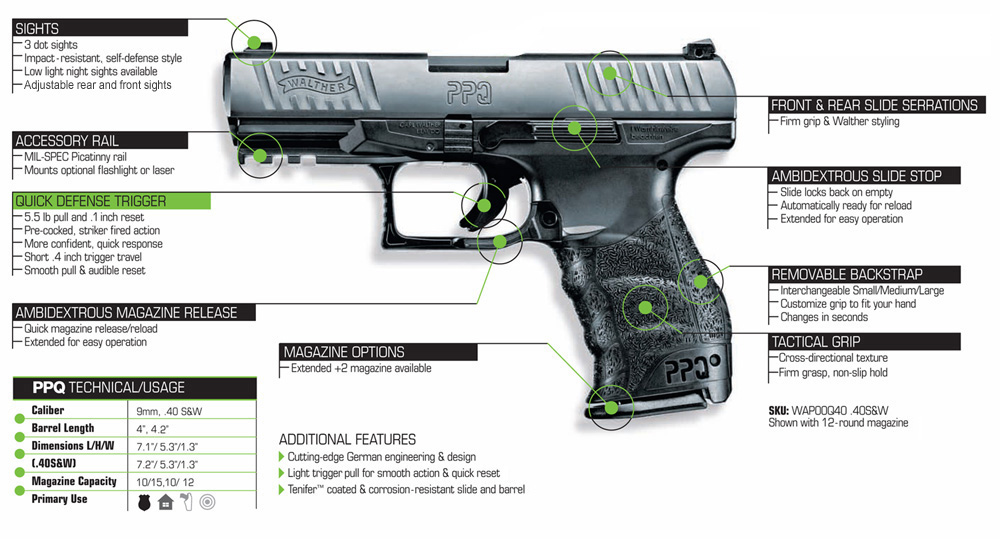 The biggest new feature from the P99QA and P99 RAD is the redesigned, and excellent, Quick Defense trigger.
Quick Defense Trigger
The new Quick Defense trigger on the Walther PPQ is simply amazing. The PPQ has a pre-cocked striker fired action. The trigger pull is a smooth 5.5 lbs, with a clean break after just .4 inches of travel. This part is fantastic, it really is, but even better is the trigger reset. It's just .1 inches. Put together, this is the best trigger I've ever used on a factory pistol that wasn't a single-action 1911.
Ergonomics
After the Quick Defense Trigger, the next best selling feature of the Walther PPQ in my opinion is the overall ergonomics of the pistol. I have always thought that Walther has gotten ergonomics right on their pistols, and the PPQ is the best yet. It simply fits your hand like a well worn glove. Included with the pistol are small, medium and large interchangeable backstraps for different size hands.
All controls are fully ambidextrous, and the pistol has a MIL-SPEC Picatinny rail for attaching accessories like a light or laser.
Specifications
| | |
| --- | --- |
| Caliber | 9mm/.40 S&W |
| Capacity | 15+1 |
| Action | Striker-Fire |
| Barrel | 4″ |
| Overall Length | 7.1″ |
| Height | 5.3″ |
| Width | 1.3″ |
| Weight | 24.5 oz |
| Grips | Textured polymer |
| Sight Radius | 6.1″ |
| Finish | Black polymer frame, matte stainless steel slide |
| Magazine | 2 – 15 round, 17 round optional |
Intended Use
The Walther PPQ isn't a small gun, but I wouldn't classify it as a full-sized gun either. It's somewhere in between. My take is that it is primarily an open carry gun as its Police Pistol name suggests, and not a concealed carry gun. The 15 round flush fitting magazines (17 round mags supposedly are available, though at the time of writing I have yet to find them) means that it stacks up against the also excellent Glock 19, and is roughly the same size.
Having said that, something about the PPQ makes it feel more compact that it really is. Perhaps it's the excellent ergonomics, or the tapered slide, or the curvature of the grip. Whatever it is, this gun carries smaller than its size, and I find myself adjusting the way I dress more and more to concealed carry this excellent pistol.
Carry Options
Since it's relatively new at the time of writing, there aren't a ton of holsters available. There is an excellent holster that I can recommend though, and that's a custom IWB holster from Theis Holsters (see my Theis Holster review).
It's not the smallest concealed carry gun in the world for sure, but I really don't have any trouble carrying my Walther PPQ in my Theis Holster. The holster fit is great, and at the 4-5 o'clock position, the PPQ really hugs the curvature of your back, meaning it conceals nicely with a simple over garment.
Shooting Impressions
As I mentioned, the PPQ trigger is simply fantastic. The trigger is crisp and predictable with an extremely short reset, making follow-up shots very fast. The three dot sights are good, and with the excellent ergonomics, recoil is mild.
Reliability
So far I have shot about 400 rounds through the PPQ, all of which were shot before the gun had been cleaned or lubed the first time. The gun has run completely flawless without a single hiccup, using various factory loads, both full metal jacket and hollow point. Â I will update this post over time as I shoot it more, but I expect reliability to be top notch.
Accuracy
Accuracy with the Walther PPQ has also been great. I started out with the pistol at 7 yards, and then moved to 10, 15 and 25 yards. At 25 yards, the dot on the front sight covers up most of the center of the target, meaning your groups will open up a bit, but accuracy was still good.
Of course, this pistol wasn't designed for 25 yard shooting, it's just fun to try it out and see what it can do. I have not yet bench rested the pistol, but at 15 yards and closer, this pistol is everything you could ask for.
Wrapping Up
I really like the Walther PPQ. The trigger and ergonomics are amazing, the pistol is reliable, accurate, and can be both a concealed carry gun as well as an open carry gun. What more could you want?
Mini Endurance Test
I decided to keep track of the number of rounds fired through my PPQ as well as the number of malfunctions. Check out the post below to get started!
Walther PPQ 1,000 Round Update