A few weeks ago, my buddy Mike from Montana Shooting Institute told me about a new Montana based barrel maker called X-Caliber located in Kalispell, MT. He had recently used an X-Caliber barrel in his AR-10 build, and reported groups under .5 MOA with match ammo and a GI trigger. That definitely piqued my interest, so last Friday I drove up to Kalispell to a have look at their operation.
X-Caliber has been in business less than a year, but the folks who work there are not new to the barrel making game. Far from it. The handful of employees I met had decades of combined experience between them, and that experience shows in their work and attention to detail.
X-Caliber is starting to make a name for themselves in the precision shooting market because of their performance, price, and their custom, one-on-one approach with customers. They offer two different types of steel, 416R stainless steel and 4140 chrome moly.
The 416R material is 100% Immersion Ultrasonic tested to guarantee internal soundness and zero surface defects. Â It is chemically balanced to meet or exceed the production and performance standards that a precision barrel maker expects. Â Both types of steel are double heat treated prior to arriving at our shop. Â On average, the stainless steel will Rockwell Hardness test between 26 to 28 and the chrome moly will average between 28 to 32 and chemistry balanced aimed at reducing variation from shipment to shipment. Â This is key because you will have repeatability in quality control from batch to batch. Â The normal diameter steel we offer is 1.030″, 1.060″ and 1.250″. Â In true partnership fashion with our steel supplier, their knowledge of metals and sourcing with our expertise in barrel manufacturing, we can scientifically advance the state of art along to you, our customer.
All X-Caliber barrels are rifle button pulled and hand lapped for faster break-in and less copper fouling and inspected before they leave the shop. Their operation and technology is impressive, especially if you consider that they are just getting started. For example, their Precihole four spindle deep hole drilling machine: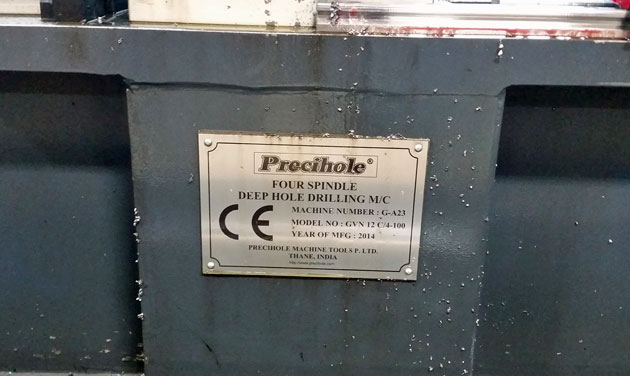 Another thing I really like about X-Caliber is that not only do they take large orders from various gun manufacturers, but they also take one off orders from individuals. You can go to their website and configure your barrel using their predefined options, or you can call them and place an order directly.

I left X-Caliber with a sample barrel (pictured above), a stainless steel 10.5″ 300 Blackout barrel that will be going in a new pistol build that I'm almost finished with. Once I get it on the bench, I'll report back with how it shoots.