I've had a relationship with Hardcore Hardware and their products for a while now; to date I've tested four of them including the topic of this review, the HHA MFK03-G.  Despite their habit of giving knives letter/number combination titles, HHA produces some of the finest hard use cutting devices I've ever had the pleasure of putting to the test.
When I received the MFK03-G in the mail, I expected much as all the previous tools from them have exceeded my expectations.  I say tools because that is exactly what they are.  With a knife, the design should make its uses and benefits obvious to the user; no frivolous features or cosmetic attachments that enhance the aesthetics simply for the sake of appearance.
A fixed blade knife especially should make its purpose known simply by how it is forged and how it handles.  The MFK03-G handles as intended; its D2 steel full tang profile suggests a multipurpose role; a drop point non-serrated blade with spine serrations that are (at least upon my initial impression) spread curiously wide from each other.
The D2 steel is Teflon finished, which HHA is known to lay on thick in my experience with previous knives, aids greatly in preserving the steel from the elements and assisting with the blades smooth passage through whatever you happen to be cutting.  With a maximum thickness of 6mm, a blade length of 4.4 inches and a total length of 9.4 inches, the MFK03-G is not large by fixed blade standards, yet it feels like a small hammer in the hand.
For carry, the MFK03-G comes with a kydex sheath complete with a stud release strap that can be used to make the knife more secure at the guard, or fastened aside for ease of access.  The sheath is pre-equipped with a Tek-Loc Molle-Loc strap which makes it quick to secure to a belt or weave into MOLLE gear.
With past tests, I had found more than enough ways to put the knife through hard use, this time was no different.  Any knife should be able to cut and do so while retaining a cutting edge as long as possible.  The MFK03-G probably wasn't designed with small, precise cutting in mind like that you would get from a thinner folding blade knife, rather it's through rough field use that the MFK03-G proves its use.
Rope was obviously not a problem, the blade length and weight of the knife made cutting all manners of rope as easy as looping it over the blade, or for thicker gauge rope, pressing it to a hard surface and using the spine serrations to saw through.  The wider-than-I'm-used-to spine serrations proved very useful in cutting, the gaps seeming to assist in creating cutting leverage as the knife was pulled through whatever media I cut with it.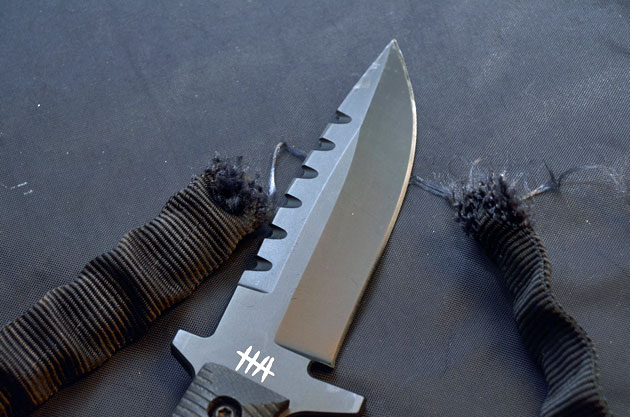 Thick suede, cardboard, denim, cable and wood didn't stand much of a chance against the leverage you can generate with the MFK's handle and careful angling.  I was able to slice though quite a few layers of thick denim and cardboard with minimal strain and the blade had no problem at all slicing into holster grade suede.  Coaxial cable was equally easily cut.  The normally robust mattress material (which other knives I've tested in the past met issued with) didn't stand much of a chance against the MFK03-G.  All in all, everything I tried to cut with a mind towards realism offered no significant problem for this fixed blade knife.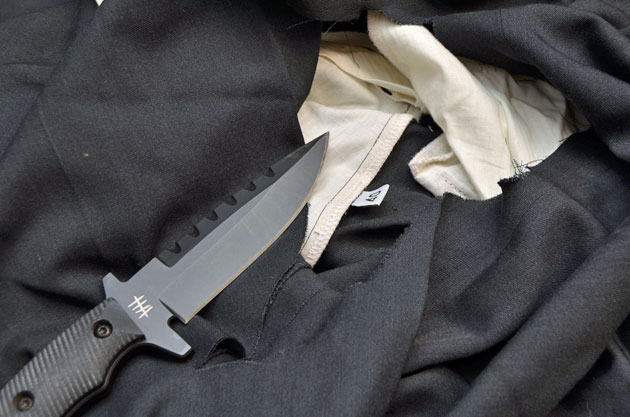 These were all rough cuts, yet after all of that the MFK03-G sliced right into a pair of cotton dress pants like it was a pair of paramedic shears.  My last cutting test of mention was a normally resistant rifle sling.  Slings are usually very well made with thick nylon or a similar material, often double or triple layered with cross stitching for the higher quality ones.  My personal experience is that the simple bungee style slings are often the hardest to cut.  The MFK03-G managed it without much of a problem.
Since the MFK03-G is a drop point, it lends itself to being used as a pick or for stabbing better (in my opinion) than a tanto style blade.  For tool purposes, I decided that if it can punch a USGI magazine body, it's not going to encounter much it won't be able to push through.  No matter how strong you are, the weight of the knife largely determines how much bite it's going to get in an object with a penetrating stab, directly related to the resistance that material offers.
The MFK03-G weighs just over 14 ounces; I weigh just under 200 lbs.  With these powers combined, a stiff strike to get a bite and then downward pressure pushed the MFK03-G right through the magazine without much of a problem.  Likewise, I was able to punch it through 8 layers of cardboard directly after pulling it out of the magazine.
My next few tests included seeing if the MFK03-G could support my body weight; D2 steel has treated me badly in the past, so I was concerned that if I used it as a step I may snap the blade.  This did not happen, in fact I left it stuck in my steps for a few days and made a point to put my full weight on it at least once a day.  Not very scientific I admit, but having used knives in the past as a handhold or a step to gain access to a roof or the top of a wall, it's a favorite test of mine for any fixed blade I come across.
Satisfied that the MFK03-G could hold up to being used hard as a tool, I dumped it under a rock in a sloped breezeway and left it there for a week. During this week it suffered under the 2014 Atlanta Snow Storm (both of them) and the resulting thaw runoff.  No rust, no oxidation, no apparent issues at all.
My final verdict is pretty simple.  HHA makes hard use knives and tools (and an awesome tactical pen).  The MFK03-G is yet another example of a well-designed and well-made knife that seems to have been built around the natural grip better than any knife ive put my hands on recently.  It can cut, pierce and pry just as any fixed blade field knife should be able to, and it does it all while retaining its edge very well.  I've had it for over 4 months at this point and have yet to really need to sharpen it, despite the hell I put it through.
If you are looking for a purpose made fixed blade, I definitely recommend the MFK03-G or any of HHA's knives for that matter.
Update: In addition to purchasing through the Hardcore Hardware website, you can also purchase the MFK03-G from Amazon. H/T to Uncle Kenny.