Blade HQ announced the pre-order for the exclusive Boker Ridgeback Elite, a carbon fiber/smokewash version of the production Boker Ridgeback.
The Boker Ridgeback is the production version of the now retired custom Ridgeback by Bill Coye (the custom Ridgeback was replaced by the ForeRunner). The production Rideback is made from 440C steel, and is a fantastic deal with street prices around $55. The Blade HQ exclusive Ridgeback Elite is essentially a "pimped" production Boker Ridgeback – the G10 handles were replaced with carbon fiber, and the blade has a smokewash finish to give it an all blacked out look.
The Ridgeback Elite is a limited number serialized run of 250 knives.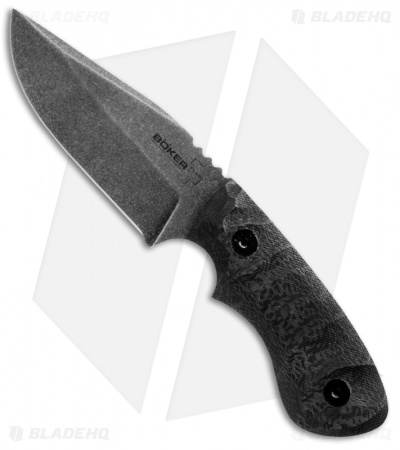 Video Overview
Description
In only a few short years, Bill Coye has gone from new knife maker to one of the most in-demand makers in the business. The Ridgeback is the one that started it all and it isn't slowing down!

Blade HQ is pleased to present the exclusive Boker Ridgeback Elite. We took the standard Ridgeback and added premium deluxe contoured carbon fiber handles to give it a seriously wicked look and feel. The blade sports a "smokewash" finish that compliments the carbon fiber handles and really rounds out the whole design and feel of the knife. Almost feels like a full-on custom! These are a limited serial numbered run. The first shipment will only be 250 knives.

The Bill Coye designed Ridgeback is small enough for comfortable belt carry, but also large enough to have a regular, full handle and to provide the "adult man's hand" enough blade for heavier work. The Kydex sheath comes with a belt carry clip that can be used in different positions. A true all-rounder that can be used for many different tasks. The handles are milled carbon fiber with a smokewash finished 440C stainless steel clip point blade.
If you're interested in reserving one, head on over to Blade HQ.