The most popular new gun at SHOT Show based on the lines at both range day and on the show floor was without question the Glock 42. Going into SHOT, I wasn't too excited about the G42 because I felt like Glock chose the wrong caliber. After shooting the gun, my opinion has changed a bit. 
The Glock 42 is of course a subcompact "pocket" pistol, but I was pleasantly surprised at how well it shot. The Glock booth was setup with steel plates at range day, and if I remember correctly, they were setup at 25 yards. I remember thinking that this was odd considering that the Glock 42 is such a tiny gun, and certainly wasn't created primarily with such distances in mind. Turns out it didn't matter.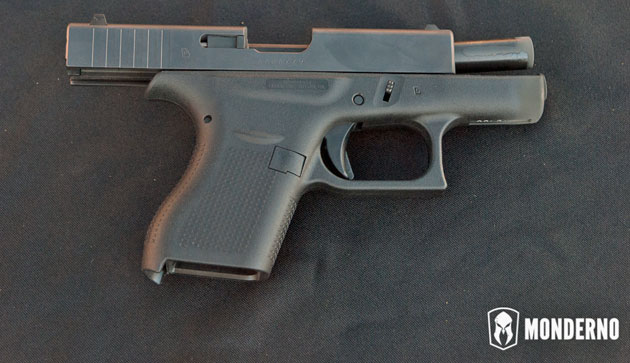 The Glock 42 shot just like any other Glock, and that perhaps is the highest praise possible for the little gun. Hitting at 25 yards was easy, recoil was surprisingly mild (some of those little 380's have some bark), and the trigger felt like every other Glock I own.
Do I still wish it was a 9mm? Absolutely. But what Glock has essentially done in my opinion is render every other subcompact 380 on the market, or at least the ones I've shot (which includes Kahr, Ruger, Keltec, Taurus and Smith & Wesson) obsolete. The trigger alone sells the gun. If you've shot any of the aforementioned subcompact 380's with long double action triggers, you know what I'm talking about.
Provided there are no problems with the gun, if I wanted a subcompact 380, this is the one I would get. For more information, specs and photos, you can check out the Glock 42 on the Glock website.
Size Comparison
Glock 42
Ruger LC380
Ruger LCP
Kahr P380
Length
5.94″
6.00″
5.16″
4.9″
Width
0.94″
0.90″
0.82″
0.75″
Height
4.13″
4.50″
3.60″
3.9″
Weight
13.76 oz.
17.20 oz.
9.40 oz.
9.97 oz.
Sources: Glock 42, Ruger LC380, Ruger LCP, Kahr P380