On Saturday, September 21, a group of Islamic militants entered the Westgate Shopping Center in Nairobi, Kenya, and opened fire. It is being reported that 71 people (the number may reach two to three times that once the investigation concludes), including many women and children, were murdered by this gang of evil, soulless bastards. Countless others were held hostage and terrorized by these cowards for FOUR days until the police and military were finally able to "neutralize" the threats. The military brought in RPG's and took columns of the building out, collapsing the roof in on the hardened position the terrorists occupied. It's safe to assume hostages were killed, as well, due to that action.
Ten of the savages were taken into custody.
The Daily Mail is reporting that during the siege, victims were hung from hooks and tortured by having eyes gouged out, fingers removed and castration. Children's bodies were found in refrigerators with knives still embedded.
The Kenyan police and military responded quickly and ran to the sound of the guns. Their bravery is without question, but, as is usually the case in such events, it was too little, too late for the victims.
Initial reports indicate that one or more of the vermin were Somali expatriates who were US citizens, most likely from the Minnesota area. For those unfamiliar, Minnesota has a dense Somali population, and is expected of being a source of volunteers, funds and training for terrorist groups around the world (source stories here and here and here). That this hasn't happened yet in the US is nothing short of a miracle.
The reality is that there is very little that can be done to stop such an attack. A small group which limits their electronic communications can plan and execute an attack with very limited resources. But, they can be shut down in the opening seconds/minutes by even a few armed and trained citizens willing to return accurate fire. The body count and damage to the lives of the innocent can be held to a minimum if good people on scene respond with swift and brutal force.
However, we have to have the tools on our person to accomplish that goal. This will be a come as you are affair! There will not be time to run out to your car and get your gun. There will not be time to don that "awesome" tactical vest and body armor you bought on eBay. That medical kit in your closet at home will be of no use.
If it's not on your person, you don't have it.
There will not be time to apply for a carry permit, there will not be time for "warm up" shots, and you will not get a "walk through" of each stage. 911 will not save you. Neither will Joe Biden and his magic shotgun.
You are on your own – the weapons you have and the training you've received are it.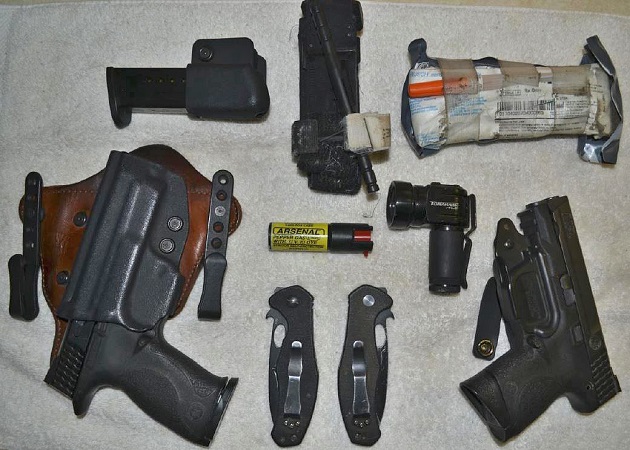 Some may ask, "But what if the mall, church, school, or business has a sign up that says 'No weapons'?" My response: I notice they never have a sign under it saying "And we guaranty your safety!"
If one believes such signs deserve the respect of the honest, trained citizen defender, then leave your guns in the car. If you don't, then go forth boldly armed. But, we must remember, as with all things in life, there are consequences for everything we do. Ignoring a "gun free zone" sign assumes risk, just as entering one unarmed assumes risk. Personally, I'm constantly amazed at those who are more concerned about obeying a sign than they are about their own death.
I'm not suggesting anyone break the law. My argument is the Doctrine of Competing Harms. I'm suggesting that we cannot allow ourselves or our families to be taken hostage, and we cannot allow ourselves to be moved to a secondary location. The time to fight when such threats arise is immediately! The longer we allow the fight to go on, the more damage we incur and the greater our chances of injury or death. Initiative must be seized, and firearms give us that advantage.
In case no one has noticed, we are at war. Not just with Muslim extremists, but with the Earth itself. The world is a dangerous place and it always has been – full of predators and constant dangers. Those who do not recognize that fact do so at their own peril. And along with that, I think the people who legislate such dreck as "weapon free zones" should be tried for crimes against nature. Denying a human being a means of defense is immoral and inexcusable! It's a complete denial of the Laws of Nature.
For those who wallow in ignorance and believe nothing evil will never happen here, there is nothing we can do for you. Continue to blindly go about your business, but stay out of our way! The rest of us will be re-double our training and preparedness efforts. Kenya is a test run for a future attack on US soil – only fools think otherwise…and I'll put money on it happening in "gun free zone".
Ready or not, here it comes.