I remember that it took forever to clear my shirt off my gun, I yanked up on it so hard with my off hand, just like I had been trained, that the bottom buttons were torn right off the shirt. I found my gun and drew, my first round was from the hip. The shot was low; hit him just above the waist. I think I expected him to go down, stupid thinking that now, but I didn't know much about what bullets did and didn't do when they hit the body. He shot before or just after I drew, I didn't feel it hit me, didn't think it did. I just pressed out and fired. They told me later I fired 12 rounds.

I was moving and pulling, trying to get to some sort of cover. I thought there was something wrong, like I was shooting squibs or something, I didn't hear anything. All I could see was his weapon, then nothing. He was down, sort of slumped against the wall, leaning on the edge of a shelf. I reloaded on programming. It wasn't anything like I had expected it would be. I never once saw my sights, can't remember my grip, my stance, anything. All the range training I had up to that point may have helped me, but I couldn't tell you how.

-K.P., UC Officer, when asked about his first shooting
I met K.P. in a handgun instructor's course. Five days on the range learning methodology of instructing, it was more mechanics than mindset. He was just one more LEO on the line in a course where being able to shoot above average was not only expected, it was required. What got my attention wasn't his shooting; it was his attitude towards some of the covered material.
K.P. didn't put much stock in sight alignment or sight picture. He went through the motions and was definitely one of the better shooters in the class but he had first-hand experience in something that is both scientific fact and known circumstance to an overwhelming majority of people involved in spontaneous shootings; the chance of you actually seeing your sights when using your handgun under the stress of a violent encounter is slim, very slim.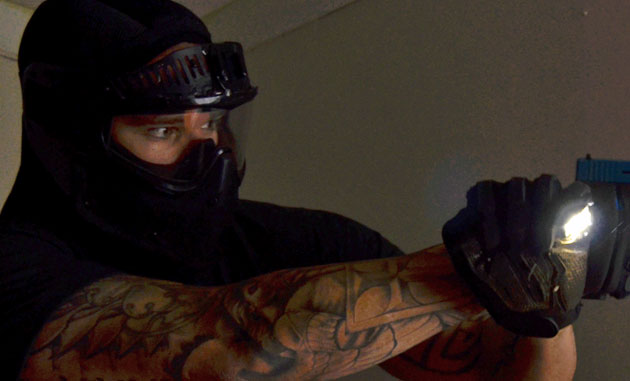 This wasn't explained in the class. In fact this instructor's level course didn't address the science of shootings at all. Not so much as an anecdotal mention of the Sympathetic Nervous System, Auditory Exclusion, performance heart rates, cognitive interpolation, kinesthetic shooting, nothing; just mechanics and instructor methodology. The level of instruction was excellent; the course was simply not geared for shooting science.
I knew exactly what K.P. was talking about, so did a few others in the class. Unfortunately the experiences of lethal force encounters cannot be accurately replicated in training; we can come close, but only close. In all of my formal training I have never actually had it explained to me why I didn't see my sights under real life stress. Even when attending the Simunitons Instructors course, a class that taught methodology for a system designed to replicate real life as closely as possible, this phenomenon was not covered. I learned about it on my own, from a book called Handbuch der Physiologischen Optik (Handbook of Physiological Optics)1 written by Hermann von Helmholtz.
Helmholtz laid out an understanding of how the eye behaves when processing stimuli and more importantly, how it processes vision under stress. This Handbuch was cutting edge research…for 1851. Of course the research into how vision works under stress didn't end with Helmholtz, if anything that's where its modern exploration began. Dr. Walter Cannon expanded (independently, from what I found) on Helmholtz work with his research that came to be known as the Fight or Flight Response2, Cannon's work identified many of the physiological effects of stress, especially those involuntary responses to perceived danger, fear and injury. At some point the science of stress was adopted by those who experienced the most mortal form of it; William Fairbairn authored Shooting to Live with Eric Sykes3 a short, to-the-point work that was monumental in its functional understanding of concepts yet to be explained by science but already understood by men who had been involved in shootings. Shooting to Live taught practical techniques with the handgun, centered around point shooting against live threats. The shooting position known today as Forward Isosceles was quantified in the pages of Shooting to Live, though it had been known for millennia that a squared-to-threat body position was natural and involuntary in most cases4. What Fairbairn also gave us was a common sense application of skills for combat, not sport. Not all of Shooting to Live has been handed down directly but many of its concepts and principles continue to be taught today.
Bruce Siddle gave the shooting community a wealth of knowledge in the 1980s with the PPCT system5; while it was and remains a system of non-ballistic use-of-force, the research into the Sympathetic Nervous System and a person's performance under stress gave those who learned it in context a unique insight into what they could possibly expect to experience, or the ability to put a name on what they had already experienced. It was not a complete picture. Siddle continued contributions to stress research with Sharpening the Warrior's Edge (1995) but attention to vision was secondary or tertiary to the other involuntary and voluntary effects of life or death stress. Much of the study of vision under stress has been, and continues to be conducted outside of the shooting community.
While the data is relatable, it's not intentionally developed for the use of violence against people. Why? I don't have a definitive answer for that, instead I can only offer my professional opinion and that is that while trainers may learn the reality of physiological responses to stress and how they affect shooting performance, they may be at a loss as to how to incorporate these facts into their training methods. Some instructors are fundamentals focused and some are defensive focused, I've learned from both and have had little attention paid to vision in shooting by either in regards to SNS stress.
Understanding the symptoms and the causes of survival stress does not mean someone can effectively teach coping techniques or methods for accuracy in real life. Instructors who felt stress shooting instruction is vital come and go but the norm remains instruction of fundamentals one or two steps removed from reality with predictable drills or drills without context, closed motor skill6 training and functional mechanical shooting that addresses marksmanship in the static. This training is important, especially when someone is at the very beginning of learning to shoot. It becomes less important as your skill level improves and your focus moves towards more realistic training. Eventually this sort of training is detrimental to student improvement. It's an artificial plateau, a performance wall erected by a sort of status quo.
This was K.Ps opinion while we were going through and instructor level course intended to teach us how to teach police officers how to shoot. It was my opinion as well; we both knew what real life stress behind the gun was like; both of our instructors in this course were retired LEOs with similar experiences yet the SNS was hardly addressed and vision under stress was paid no mention at all. Despite the otherwise quality level of instruction, every single one of us in that course were done a disservice by not being taught the plain fact that no matter how much time you put into proper sight picture and proper sight alignment with the handgun, the chances of you acquiring a textbook or even passable sight picture under objective/perceived threat of injury in the compression of time (spontaneous or near-spontaneous defense) is so small as to be an exception, not a rule (if it does occur). Since vision is the single most important sense we have when fighting and shooting in general, this seems to me to be vital information.
I find it hard to believe that men who had experienced the physiological effects of a lethal encounter would not impart those experiences to others, but word-of-mouth relation to students of personal experiences only goes so far. Many of the students we have in front of us will have not been involved in a shooting or multiple shootings. We can explain the stress effects on vision (among other things) but having not experienced them personally, those students are only getting an academic understanding. Since everyone has eyes and can see, they may not grasp that their vision can be changed in a significant way under stress because internally they have been seeing since birth and have far more experience with their vision than we as instructors do telling them how they see. On a live fire range it is difficult to replicate real life. Artificial range stress helps, but the nature of firearms rightfully demands certain safety measures and the nature of many ranges (shooting in one direction, limited movement, no high or low angle shooting, etc) prevents the most realistic training possible. Some of these training artificialities can be worked around with more forward thinking in range design and drill construction, others are unchangeable fact. The certainty remains, stress in a violent encounter will affect your eyes.
The Eye Under Stress
So why didn't K.P. see his sights? The human eye is a very complex piece of evolutionary engineering; it has the ability to alter point of focus from near to exceedingly far distances through Accommodation7 at speeds between 350 milliseconds and 1 second8 depending on age and general eye health (as well as environmental conditions). But this ability is highly dependent on the levels of stress in the body. In regards to stress, more specifically the stress we experience from the Sympathetic Nervous System (the body's natural defense mechanism when threatened) when a threat is perceived, information is transmitted to either the amygdala and then the appropriate cortex or directly to the cortex depending on the stimulus (a spontaneous attack will cause a reflexive response, or a Somatic Reflex9 in which our natural programming generates a response before the "thinking brain," the appropriate cortex can generate a conscious response whereas a perceived threat that does not initiate a Somatic Reflex will process to the appropriate cortex and allow OODA10 to take place). In layman's terms, the body will produce adrenaline under stress, adrenaline is secreted into the blood stream near-instantaneously and pushed throughout the body by increased heart rate. Adrenaline has a number of effects on the body to prepare it for "fight or flight," as far as the eye is concerned it effects the Ciliary muscles.
The Ciliary muscles are a ring of muscles that surround the lens of the eye. They contract or relax to change the shape (thickness) of the lens to alter desired focal distances, this is Accommodation.
Under stress, the Ciliary muscles are directly affected by adrenaline11, they contract, which thickens the lens for distant focus, literally eliminating the possibility for near focus. When the body's Sympathetic Nervous System is activated, a number of involuntary reactions occur and they affect normally voluntary systems, in this case, focal point12.
The involuntary loss of control over the Ciliary muscles when we react to a threat is programmed into our "fight or flight" response. Our field of vision is increased to its maximum, the pupil dilates to allow in the maximum amount of light and allow us to best see our threat. Speaking in evolutionary terms, we have been fighting with our hands and hand weapons much longer than firearms. With implicit hand-eye coordination developed since birth, our threat response is hard wired to focus on the threat. Motor control for hand movements is not dependent on continual visual input. Unfortunately visual input, close focus, is necessary for sighted fire with a firearm. Sighted fire is done by centering the front sight in the rear notch, placing the front sight in focus and driving it to a spot over our threat. When the SNS activates, this ability is largely lost. The "front sight focus" that has been beaten into every shooter's brain from day one is gone; we cannot focus on the front sight because our nervous system doesn't allow it. Loss of near focus is temporary, though appears to last as long as the SNS is active or a conscious decision is made to alter the point of focus. It gets worse.
Tunnel vision (visual perceptual narrowing) is another reaction to an SNS activation when a threat is perceived and is also common in high stress situations that do not involve threat of injury13. When the SNS activates, in addition to adrenaline being released into the body, Cortisol is also released. Cortisol effects perceptual error detection14 literally blocking visual input from being processed by the visual cortex15. It's not that the information isn't seen, it's that the information is not regarded as important and therefore not given the same attention as that in the direct field of vision.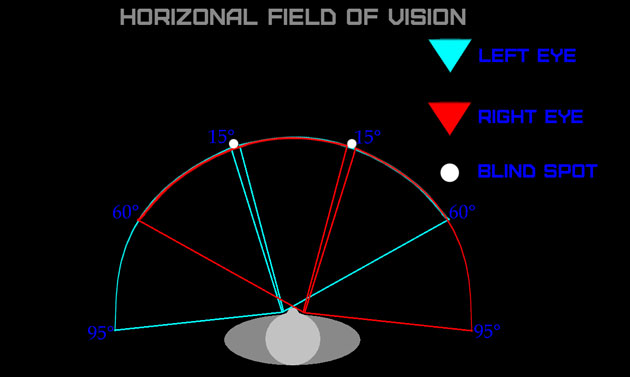 The loss of peripheral vision varies and is dependent on training, skill level and previous experience with vision under SNS activation but one can expect 20% to 30% loss of peripheral vision16 which is to say that the average 190 degree field of total horizontal vision (average 155 degrees per eye) can be reduced to as much as 57 degrees total.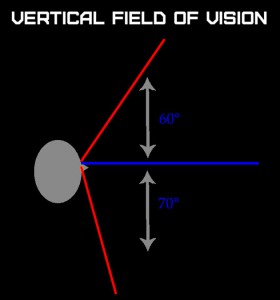 Our vertical field of vision is 60 degrees above midline (natural visual horizon) and 70 degrees below. Under the effects of tunnel vision, upper field of vision can be reduced to as little as 18 degrees, lower field of vision can be reduced to as little as 21 degrees.
Going back to our evolutionary programming, tunnel vision aids us in zeroing in on the threat, tuning out irrelevant visual stimuli and sharpening our view of what is threatening us. While this is beneficial to focus on the bad guy, it doesn't allow us to see what else could be important information in our field of vision such as innocent bystanders, additional threats or environmental concerns. The more stressful the situation, demanding the task or close the threat, the more extreme tunnel vision is likely to be17. With the Ciliary muscles already affected by adrenaline and the narrowing of attention on a threat causing visual tunneling, missing potentially vital peripheral information complicates our inability to focus on our weapon sights. Unfortunately this isn't the last detrimental effect of SNS on the eyes.
Depth Perception, the ability to perceive the world in three dimensions, is largely due to our eyes being in the front of our skull, allowing for stereoscopic vision. When the Sympathetic Nervous System is activated, stress affects accommodation-the Ciliary muscles, which results in a small misalignment of the visual axis (stereo alignment and communication between the eyes), causing contrast problems between either eye18. This may cause a threat to appear closer than they actually are, or make objects appear closer than they are. While the loss of accurate depth perception can be a negative, it does serve to aid in threat processing and recognition.
Shooting Under Stress, a Three Year Study
Over the past three years I have been teaching both citizens and Law Enforcement with the Simunitions Force on Force training system. Since the 1980s, Simunitions and systems like it have allowed trainers to place students in as close to real life as possible violent encounters. While the system does not accurately reflect real life, if the scenarios are organized effectively, it is as close as you can get. From my own personal experience and the experiences of others I have worked with and spoken with, Simunitions very closely reflects much of what occurs physiologically in an actual use of force. When I first started teaching LE with Simunitions, I came up with a few very simple questions I would ask at the end of their training scenario. These questions were asked of each student in a handgun scenario immediately following a logical conclusion of their training. As the scenarios spanned three years and covered a number of varied training specifics such as close quarters shooting, low light, active shooter response, vehicle defensive skills, felony stop procedures, etc. The information is anecdotal, though telling as the type of training is varied yet the commonalities between students is obvious. All scenarios polled placed the threat(s) within 15 feet of the student. 110 Students over three years were polled.
Three simple questions.
Were you were able to acquire a gross or fine sight picture under a spontaneous threat?
No: 90%
I don't remember: 9%
Yes: 1%
Were you able to consciously focus and find your sights?
I didn't have time: 33%
No: 31%
Yes: 23%
I don't remember: 13%
Did you unconsciously acquire a sight picture at some point during the scenario?
No: 65%
Yes: 20%
I don't remember: 15%
Handguns used during the study:
Sights used:
OEM Beretta
OEM Glock
Glock Night Sights
Truglo TFO
XS Big dot
Trijicon
Trijicon HD
Sawson Precision (fiber optic front)
Student shooting experience:
0-5 years: 20
6-10 years: 45
11-20 years: 28
21+ years: 17
The length of a scenario, and how fast a student was forced to react was largely responsible for the ability or inability to eventually acquire a conscious sight picture. Students that were placed in a sudden shoot situation when the reaction time to rounds fired time frame was mere seconds almost exclusively answered in the negative. Scenarios that gave the student a greater distance from the threat or allowed them to move to cover, or fight from cover allowed some students to acquire a sight picture after those first few seconds had passed, their threat moved and they perused, or the situation called for more precise fire (such as the threat using cover). This information is by no means complete, nor was it gathered under a specific set of like scenarios to ensure commonality of data. It was collected from varied scenarios from students with varied back grounds on purpose. Instead of establishing the facts within a narrow scope, I wanted data from the widest possible number of circumstances because reality continues to show us time and time again that each gunfight is unique in a number of ways and the only commonality is often in our involuntary reactions to stress.
Why was 15 feet important? My professional and personal opinion is that an overwhelming number of shootings happen in conversation range. For the citizen, an individual intent on robbing them or performing a similar crime of profit will do so from a close distance. Someone armed with a knife; bat, club etc. must be within the effective reach of that weapon to use it. Even in law enforcement, many shootings (most) happen at close distances because often some form of interaction between cop and bad guy takes place prior to the shooting. The closer the threat, the less time available to react. With distance we may have the (relative) luxury of time, which means more options than simply reacting; conscious decisions can be made and an obvious decision would be to use a fundamental sight picture; though at what distance from a threat does this become possible? I don't have an answer for that, I'm not sure anyone does. What I do know is that the solution to our loss of close focus and reduction of our field of vision under stress lies in the fundamentals of shooting in a special context.
Kinesthetic Shooting, the unintentional answer
Kinesiology is, in the simplest terms, biomechanics; the study and explanation of motor movements at the physical and physiological level. When we begin shooting, proper instruction and practice teaches us motor functions to perform the tasks needed to operate the weapon. When we learn a new motor function, such as the draw, presentation of the weapon, proper two hand grip, trigger control, reloading, etc., we are learning the skill consciously. Repetition builds skill confidence, efficiency and most importantly, it builds unconscious confidence. The ability to perform without conscious thought no matter how complex the skill is done by practice; each repetition draws on the experiences of the last and if that skill is practiced with attention towards efficiency of movement or proper mechanics, our ability to perform that skill quickly is greatly increased. This sort of learning is often referred to as Kinesthetic, or Hebbian theory19 after Dr. Hebb.
Hebbian theory describes a basic mechanism of Synaptic Plasticity in which the cells in synapses responsible for firing and communicating to create a movement gain efficiency by repeatedly working together to form the motor control program. When I was first introduced to this concept it was called (and continues to be called) Muscle Memory; while the proper term isn't important to using it to learn, an understanding of it is. Muscles don't have "memories" but we do. We program our brain to perform tasks and when it comes to firearms, we hope that those tasks are performed as unconsciously as possible so we don't have to think our way through them (which slows reaction time). When we run through drills on the range and all the fundamentals of firearms work together, Synaptic Plasticity insures that our level of performance is reflected in our efficiency and dedication to practice.
By varying drills or introducing unexpected problems (such as dummy rounds to induce weapon malfunctions or being forced to draw with your support hand to practice wounded arm drills) we can further increase our efficiency through Contextual Interference20 which helps us find the optimal motor solutions to perform the task even with situational interference. With the addition of mental process and judgment situations (shoot/don't shoot drills) or three dimensional problems (changing the angle of a shot to avoid hitting innocents) we begin to tie our visual process to our motor process, which already learned to work together when we visually walked ourselves through learning certain skills.
If as much training as possible is done with an eye towards overall context (training to shoot people, not paper, shapes, bull's-eyes or dots) our skill level is dramatically increased versus training out of overall context21. If training is performed out of its intended context, without the introduction of stress or literal understanding of why the skill is important, the learning of the motor function and its relation to other motor functions is negatively affected22. In basic terms this means that maximum performance is only obtainable when skills are trained and practiced under increasing levels of stress. This is practiced in varying degrees by instructors in teaching; some are more fundamentals than self-defense focused and of those who are self-defense focused, some disregard much of the science on stress because they don't know it or because they don't believe in it.
Because the eyes are going to work against us, we rely on other present motor skills to fight with the weapon. The proper functionality of the draw, the presentation of the weapon and what visual data is available (seeing the threat even if we can't see the sights) and shooting is done based on an emotional response to perceived facts. This basic hand/eye coordination is the basis for being able to catch thrown objects, toss trash into the trash can, reach out and grab objects, play games etc. Our hand/eye coordination is one of our most implicit skills; it begins developing at birth and is often advanced in efficiency before any of us pick up a gun to learn how to shoot. We are taught the sights from day one, but perhaps not taught the context of how stress with affect the seeing of the sights. When the SNS kicks in and steals our close vision, we are left with point shooting; the reliance of our vision on the threat to guide our gun and put the bullets where we want them to go, or, Kinesthetic Shooting.
Putting it in context
Proprioceptionis a term that is somewhat interchangeable with Kinesthetic. Both words serve the same purpose, though the study of Proprioception is more focused on body positioning. What is it? Basically we are talking about your body's built-in awareness system for where your appendages are at any time. As we grow up and develop our hand-eye coordination, through Proprioception we learn our joint position sense, a method by which (through active observation, feeling and unconscious awareness) we angle our joints to a predetermined position to perform a task. This can be an instructed task (such as proper weapon presentation) or a random position task (catching a tossed set of car keys). The most interesting aspect of Joint Position Sense is that is not heavily (and sometimes not at all) vision dependent23. What this means is that we can direct our weapon with a high degree of accuracy with limited visual input, and the more visual acuity we have of a threat (tunnel vision and observation time), the higher degree of joint position accuracy24. Because we already know that repetition of a new motor function builds its efficiency, the very act of practicing your draw and presenting the weapon is programming it into your mind in much the same way that you once learned to catch a ball or swing a bat. The intent may be different, but the methods for learning remain the same. What increases your performance ability in a violent encounter, when "point shooting" may very well be critical is your time spent working your skills under stress. Is this simple reliance on hand/eye coordination? Yes and no. Many self-defense minded shooters practice firing from the hip, or close tuck position where the gun isn't even in their field of view, yet they get hits (this article started with an account of a hip shot and hit). Being able to see the weapon, even if it isn't in focus, aids in the delivery of accurate gun fire. You can be very accurate, even without your sights; alignment via visual data to joint position accuracy can be very high, even under stress25.
Training for eventuality
The more you train to perform under stress, the more realistic the stress, the better your performance will be. Most importantly, the more acclimated you will be to the stress you will encounter. This had been studied by Bruce Siddle, David Grossman, Dr. Bill Lewenski, Dr. Joseph Ledoux and even (if in a roundabout way) Howard Bloom (among others). Sometimes referred to as "Stimulus/response training," the methodology is simply to instruct a method for response, provide a stimulus under as much stress as possible (graduating to more and more realism as skill level increases) and allow the student to exercise the skill in conditions as close to real life as possible. With a Sympathetic Nervous System activation, this is the only method to potentially overcome deep structure evolutionary programming26. Does this mean that we can train under a spontaneous threat to see our sights? To overcome adrenaline's effects on the Ciliary muscles? I have been looking for that answer for as long as I knew the question. What I do know is that tunnel vision and errors in depth perception can be, if not overcome, then fine-tuned to minimize their affects through stress inoculation training and Tachistoscope or flash visual training27. The more realistic a target, the more it mimics an actual human threat and the more stress you are under during the training session (so long as the stress is realistic and not out of context to the training objective) the better you are prepared; the better your vision can be trained for stress.
Scanning is a technique used to break tunnel vision; once a threat is down and does not appear to be an immediate threat, we scan. Turning the head left and right to get a full view of the world around us helps break tunnel vision and gives us visual data of the world around us in the event that other threats are present. By introducing additional targets outside of our primary focus, or beginning with no visual of the target (facing away) we begin to tune or habit of scanning and flash sight awareness.
Close action shooting; acclimation to the compression of time against life-like targets is perhaps one of the best methods to understand and learn the mechanics needed for spontaneous defense. Training with targets at arms distance (or closer) to 10-15 feet; time constraints (1-4 seconds), environmental /situational stressors (low light, elevated heart rate, one arm or "wounded" drills, weapon malfunctions, etc.), judgment shooting and many other options can increase close range effectiveness and reduce reaction time. Shooting from the hip or close-tuck to specifically target parts of the body (head/thoracic cavity/pelvis) can further increase effectiveness.
Stress inoculation training, specifically Simunitons or a similar Non-Lethal Training system will go far towards helping you understand your personal reactions under stress; validate existing skills, practice new techniques under stress, work on threat recognition, shorten problem-solving thought processes and most importantly, identify techniques that do not work under stress. The more complex (and realistic) a training scenario to a situation you could encounter in real life, the better prepared you will be to cope with the actual stressors of a real life violent encounter.
Finally, kinesthetic shooting can be practiced in a number of methods. The best beginning method is to assume a sight picture, look away, pull the gun into a high tuck and then press out and fire. Two or three rounds and then assess your round placement against your desired point of impact. This method can be advanced to getting a visual, looking away and then completing your draw and shot group. Another method is to aim but not use the sights at all. Varying the target exposure, height or placement will aid in developing increased Proprioception methods for shooting under stress. Another method is to tape the rear sight notch with the smallest piece of tape possible and then work on increasing distances from your target while reducing your available reaction time (using a par timer or practice partner who sets the drill parameters). Another method is to remove the sights from the gun completely for close quarters shooting practice.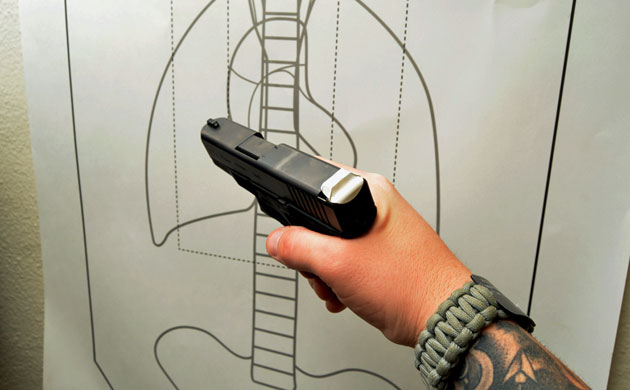 Obviously any of these techniques can be controversial. I'm fine with that because I'm open to alternate methods and because this article is based on fact, to argue with the need for such training is to argue with facts. If your focus as a student or an instructor is on Self-Defense shooting, then this is a reality you cannot ignore. To do so is a great disservice to your students or to yourself. Obviously proper sight picture shooting is just as important, and shown to be possible with distance (and time) from our threat; but reality shows us that we often don't get to choose distances or circumstances so close quarters shooting with a mind towards the physiological effects of stress is crucial to proper self-defense shooting practice and training.
This has been a long read, years in the making, and as much as I tried, I couldn't make it any shorter. My goal has been, as it always is, to help the students understand what they may face and how best to prepare for it.
Notes
1 Handbuch der Physiologischen Optik (Handbook of Physiological Optics), Hermann von Helmholtz (1851) Translated by James P. C. Southall, Optical Society of America (1924)
2 The Wisdom of the Body (1932), Bodily Changes in Pain, Hunger, Fear and Rage Dr. Walter Cannon (1915)
3 Shooting to Live, William Fairbairn/Eric Sykes (1942)
4 A Look at Fighting Stance, Part I/Part II/Part III, http://recoilweb.com (2013) A.Cowan
5 PPCT Management Systems, Inc., (1980-2006) PPCT Defensive Tactics system.
6 On prediction in Skilled Movements, E.C. Poulton Psychological Bulletin (1957)
7 Accommodation-dependent model of the human eye with aspherics, R. Navarro, J. Santamaria and J. Bescos (1985), The eye in focus: accommodation and presbyopia, Dr. W Neil (1998)
8 Eye movements and perception: A selective review, Alexander C. Schütz, Doris I. Braun, Karl R. Gegenfurtner, Journal of Vision (2011)
9 When seeing outweighs feeling: a role for prefrontal cortex in passive control of negative affect in blindsight, Silke Anders, Falk Eippert, Stefan Wiens, Niels Birbaumer, Martin Lotzel, Dirk Wildgruber Brain, a Journal of Neurology (2009)
10 Science, Strategy and War, The Strategic Theory of John Boyd, Frans Osinga (2005) The Emotional Brain Dr. Joseph LeDoux JE (1996)
11 Formation of the aqueous humor, Dr. Janet Fitzakerley, University of Minnesota Medical School (2014) Adler's Physiology of the Eye: Expert Consult 11th edition, Leonard A Levin, Siv F. E. Nilsson, James Ver Hoeve, Samuel Wu, Paul L. Kaufman, Albert Alm (2011)
12 Autonomic Nervous System, Flinders University, Australia Dr. Bill Blessing, Dr. Ian Gibbins (2011), The Integrative Action of the Autonomic Nervous System: Neurobiology of Homeostasis, Dr. W.W. Jänig, Cambridge University (2006)
13 World Health Organization. Work with visual display terminals: Psychosocial aspects and health. J Occup Med (1989)
14 Effects of a single dose of cortisol on the neural correlates of eipisodic memory and error processing in healthy volunteers. Psychopharmacology ,FC Hsu, MJ Garside, AE Massey, RH McAlister-Williams (2003)
15 Tunnel Vision, Its Causes, Treatments and Strategies, Edward C. Godnig, O.D. (2003)
16 The effect of mental workload on the visual field size and shape, EM Rantanen, JH Goldberg (1999)
17 Effects of priority assignment of attentional resources, order of testing, and response sequence on tunnel vision, HS Chan, AJ Courtney (1994)
18 Understanding the Human Physiological and Mental Response to Critical Incidents, Lt. DM. Clay, Dr. Kline, School of Law Enforcement Supervision (2001) Bodily Changes in Pain, Hunger, Fear and Rage, Dr. Walter Cannon (1915) The Effect of Induced Visual Stress on Three Dimensional Perception, Dr. Faudziah Abd-Manan (2000)
19 The Organization of Behavior, Dr. Donald Hebb (1949)
20 The flexibility of human memory, W F Battig (1979)
21 The Effect of Context on Training: Is Learning Situated? Lynne Reder, Roberta L. Klatzky, (1994)
22 What is repeated in a repetition? Effects of practice conditions on motor skill acquisition, Tim Lee, Laurie Swanson, Anne Hall (1991) The search for invariance in skilled movement behavior, R. Schmidt (1985)
23 Reliability of Joint Position Sense and Force-Reproduction Measures During Internal and External Rotation of the Shoulder, Dover, G; Powers, ME (2003)
24 Where was my arm again? Memory-based matching of proprioceptive targets is enhanced by increased target presentation time, Daniel J. Goble, Brittany C. Noble, Susan H. Brown (2010) The Role of Proprioception in Action Recognition, C. Farrer (2003)
25 The Role of Proprioception in Action Recognition, C. Farrer (2003) Cognitive Issues in Motor Expertise, J. Starkes (1993)
26 The Role of the Amygdala in Fear and Panic, Doug Holt (1998) The Anatomy Of Fear And How It Relates To Survival Skills Training, Darren Laur (2002) The Emotional Brain, Dr. Ledoux (1996)
27 Visual field tunneling in aviators induced by memory demands, Dr. L J Williams (1995) The visual perception and reproduction of forms by tachistoscopic methods, S. Renshaw (1945)