Back when I was a uniformed patrol officer, I wore my concealable soft armor underneath my uniform, like many cops still do.  It can be extremely uncomfortable and gets warm very quickly.  I remember being drenched in sweat after a foot chase or wrestling match with a suspect, then having to sit in front of a computer in my hot, smelly vest to finish the paperwork.  It would have been great if my armor had been worn in an external carrier allowing me to remove it and cool off without going all "Magic Mike" with my uniform shirt.  Fortunately for uniformed law enforcement and security personnel, more and more departments are authorizing the use of external armor carriers.
There are a lot of external armor carriers on the market.  Most of them are designed around military armor sizing standards like SPEAR/BALCS cut armor panels or ESAPI hard armor plates.  This can be an issue for law enforcement officers that are issued concealable soft armor.  These armor panels are cut for low visibility and are generally designed to be worn under a uniform shirt or other clothing.  So the sizes and shapes of these panels can vary from manufacturer to manufacturer and presents a problem when looking for a properly fitted external carrier.
Several companies make "universal" armor carriers that are shaped to allow different types of soft armor panels to fit inside them.  Having worn several of these carriers, I have found that sometimes my armor panels are very loose inside certain carriers and will jostle around inside the vest.  I have also worn "universal" carriers where I had to fold the ends of my armor panels just to get them to fit.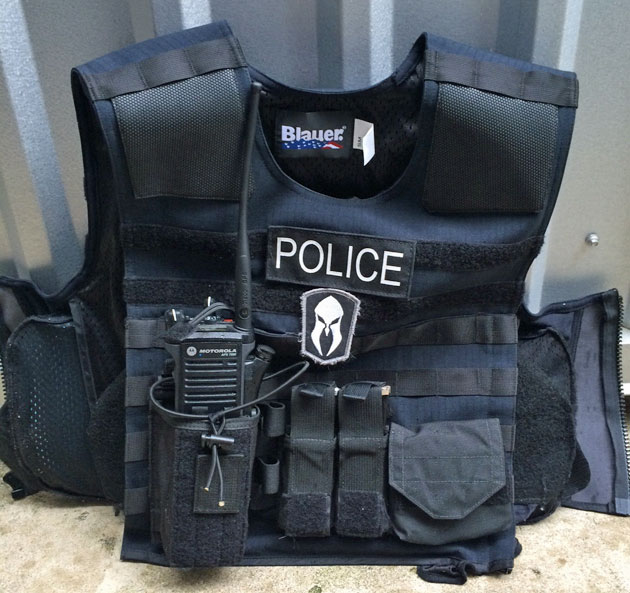 Blauer has come up with a practical and innovative solution to this problem with their ArmorSkin line of products.  This line includes an ArmorSkin carrier that looks like a traditional uniform shirt, ArmorSkin base shirts in short and long sleeve variants, and the topic of this review, the ArmorSkin Tactical Vest Carrier.  Where other vests require that you remove your soft armor panels from their original carrier, the Blauer vests allow you to simply install your original carrier inside of the Blauer vest.  This means that you can adjust your armor to fit you the same way it did when you wore it under your uniform, only now you have the ArmorSkin carrier as a shell on top of that.  Relying on your original carrier straps ensures you can get the right fit.
Testing
I started testing by setting up the TacVest and hitting the range.  I spent time running pistol, shotgun, and rifle drills to help evaluate how all the features of the vest worked for me with different weapons systems and in different situations.
After wearing the vest for firearms and CQB training, I decided to use it on duty to see how it worked out.  I volunteered to assist with some take-downs using marked units and uniformed officers.  I found that the navy blue ArmorSkin vest matches perfectly with the Blauer uniform pants and shirt.  Despite being covered in MOLLE, the ArmorSkin TacVest still managed to give a professional, uniform appearance.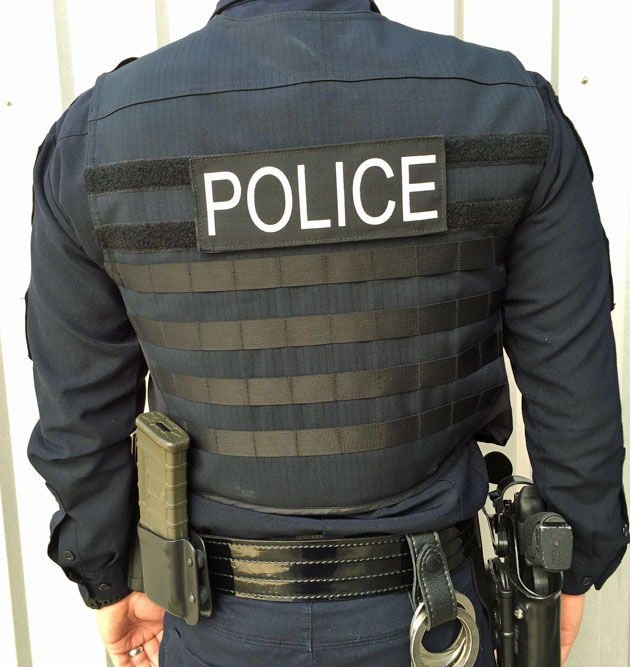 It was great having most of my police equipment placed on the ArmorSkin TacVest because it took a little weight off of my duty belt and also allowed me to access some of my equipment more readily while sitting inside of a vehicle.  During my duty time with the vest I did not come across any issues with fit, function, or quality.  I did not really even notice the small bit of play between my equipment pouches and the vest caused by the administrative pockets.
The only thing about the TacVest I did not like was that it does not accept hard armor plates.  When I was a patrol officer I had a plate carrier in the trunk in case I came up against a suspect with a rifle or ran into some sort of active shooter situation.  I was able to just throw this external plate carrier over my slick soft armor and uniform shirt.  Wearing the TacVest though, this would not be possible because you already have a carrier on with all sorts of pouches and accessories attached to it.  It would be impractical to throw another vest over all of that.  If Blauer can think of a way to add hard armor pockets to this vest, it would truly do it all.
Features
The ArmorSkin TacVest is made of rip-stop nylon and feels to be tough and well constructed.  The vest is covered in PALS webbing on the front and rear panels but remain slick on the sides.  The webbing is sewn evenly and consistently and held up tightly during my testing.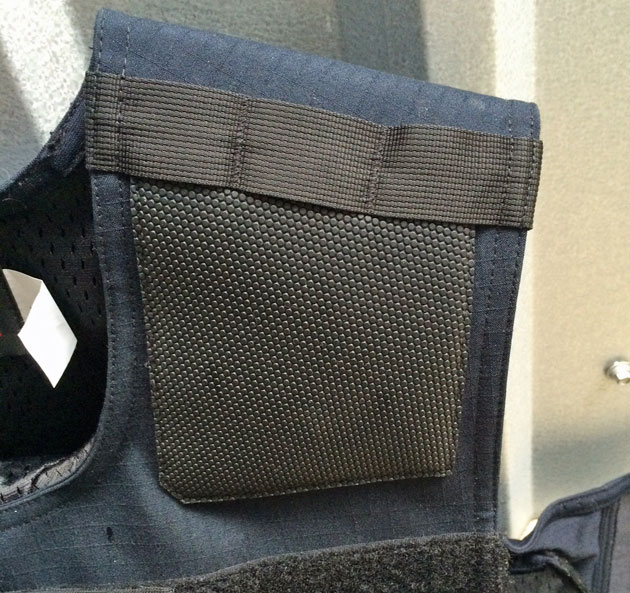 On either shoulder of the vest are grip pads for stabilizing long guns during use.  I found that the grip pads work well and did aid grabbing the butt stocks of my rifle and shotgun while shooting.  During shoulder transition drills with the rifle and occasionally when firing from alternative positions, I found that sometimes the butt of my rifle would engage the grip pad before I really had it tucked in to the exact position I needed.  Normally I'd be able to adjust by just fluidly sliding the butt stock of my rifle incrementally.  Sometimes with the Blauer vest, the grip pads worked a little too well and the rifle was locked in to whatever positions it was in.  The grip pads truly shine when using your shotgun.  Though thin and unobtrusive, the grip pads seemed to provide just enough cushion to make high round count shotgun training just a little easier on my shoulders.
The TacVest features two thin rows of hook material on the front and back of the vest for adding identification patches.  I originally thought these rows were also MOLLE but realized they were not when I attempted to attach a small admin pouch to them.  It would have been nice if these rows of hook had also retained function as pals webbing but after getting the vest set up I really did not miss those rows too much.
There are two internal pockets in the front of the vest.  I tried to place a Motorola APX 7000 in to the radio pocket on the right but had a few issues.  When using the shorter battery, the radio sat too deeply into the pocket and I could not access the transmit button.  When I switched to the longer battery, the radio sat higher and I could reach the top third of the transmit button, however the elastic retention strap sewn in to the vest was too short to close over the radio.  So if you plan to use this pocket for a radio you may want need to use a Push-To-Talk (PTT) or an external microphone/speaker.
I opted to just attach a modular radio pouch via MOLLE.  The pocket on the left would be a great place for pens, handcuff key, small notebook, or other items.  The interior of the pocket is very slick though and there is nothing to secure the pocket closed.  So I would not recommend tossing your cellular phone or anything valuable in there.  I feel these pockets would have been more useful if they could zippered shut or secured with hook and loop.  It should also be noted that the pockets cause there to be a slight amount of play when you attach pouches.
The zippers on both sides of the vest are high quality, YKK hardware and should hold up to rough use for years.  The side panels are made of a breathable, stretch material.  This allows for some of that hot air inside your armor to vent out a little, and the elasticity of the fabric allow the vest to expand and contract with your breathing… also great if you are in to fad dieting but eventually just go back to donuts.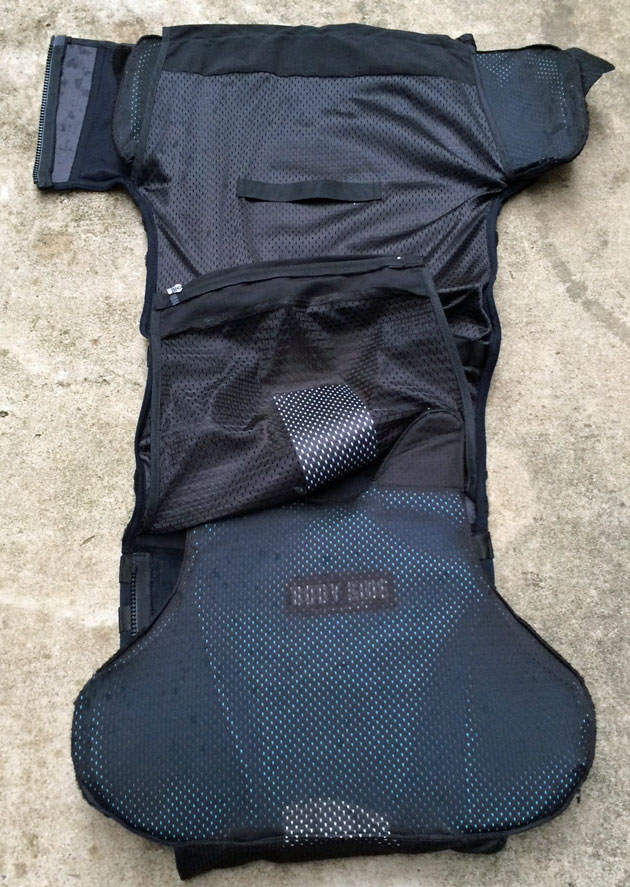 Wrapping Up
Overall I think Blauer has a really great product here in the ArmorSkin TacVest.  It looks at home over a Blauer base shirt, uniform shirt, or even over a t-shirt.  It accommodates an incredibly wide range of armor shapes and offers plenty of MOLLE real estate to configure for different uses.  I can see this vest being used by uniform patrol officers, proactive teams, or even plain-clothes detectives that need to throw on soft armor and equipment very quickly before taking enforcement action.
Though there are very minor changes I would like to see in the design, I had no issues with the vest in practical use and would be completely happy if I was issued this vest for duty.  This thing can fulfill just about any law enforcement role you need it to.  So if you are looking for a versatile armor carrier but do not need to wear hard armor plates, chances are that the Blauer ArmorSkin TacVest can do the job for you.