I'm not much of a boot fan.  I've been wearing them almost all of my professional life, but I prefer a low ankle athletic design over a high collar boot any day of the week.  Boots do serve a purpose; they protect the foot and ankle better than a low cut shoe but they give up a lot of mobility to do that which is my personal reason for opting out of them every chance I get. 
I'm supposed to wear a "boot" at work and I shamelessly don't, I just go with a cross trainer that looks boot-in-nature and call it a day.  Anyone who has seen me on the range knows I'm more likely to teach a class wearing Chuck Taylors than some side-zip foot coffin.   I own boots of course, because they make sense sometimes and when sense is made, I can be seen wearing them.  Brandon recently sent me over a pair of the Blauer Clash LT 8" to test out and I was glad that he did since I just killed my go-to high collar boot.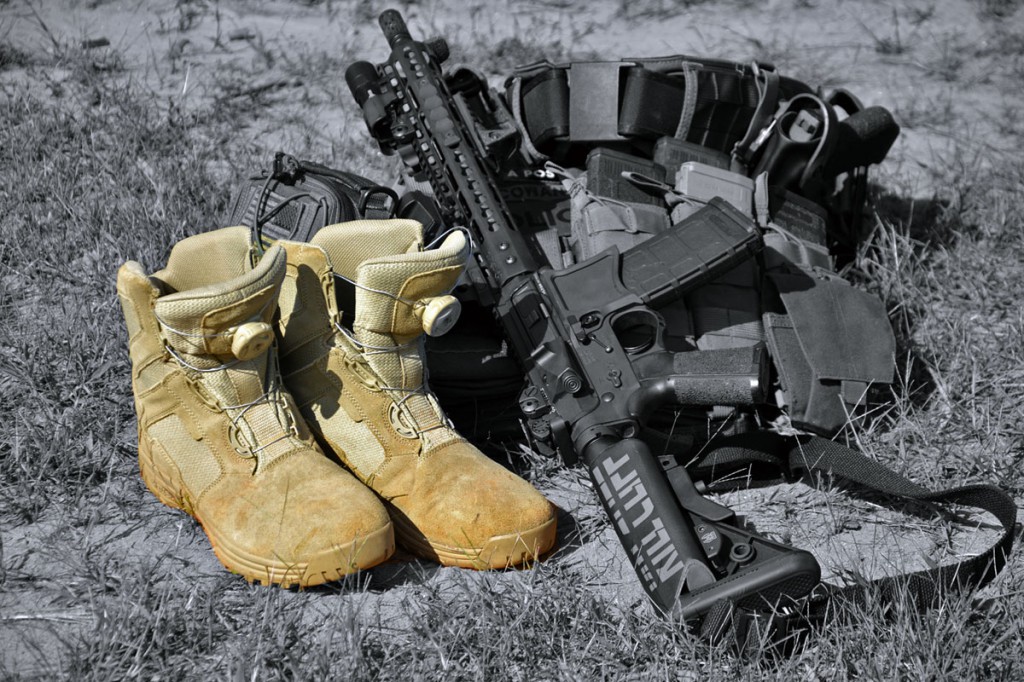 The Clash has an awesome feature called the BOA lacing system, essentially steel cables have replaced traditional laces and they are tightened by a ratcheting control knob on the boot tongue.  Rotating this knob tightens the cables down uniformly on the (very thick) boot tongue and in seconds your footwear is in service.  To take them off, the knob pulls out and releases all tension, making this one of the fastest on/off boot designs out there.  Also, unlike some side-zip designs, the boot stays fit to the foot and no tension is lost throughout the day.  If you've seen snowboard boots, you may be familiar with the ratcheting lace and the Clash LT provides the same level of comfortable fit.  For those of you who like to pressure map your laces to provide pin-point support for climbing, the BOA lace may not be for you, but for anyone else, it's one of the best lacing systems I've seen since learning to tie the rabbit ears.
The boot body is suede and mesh with a sole that seems more at home in the flat lands or city streets than the Hindu Kush; which is good because the Clash LT is not a cold weather boot by design.  The boot liner is your normal anti-microbial fair, and as far as the wear goes, there was no break-in period for me at all.  The Clash LT was comfortable for the first 8 hour wear, which was spent on my feet the entire time running a range; with a generously padded collar, these boots stay comfortable and the light weight (18 oz) makes them almost like a cross trainer.  When it comes to the elements, even though they are not waterproof, the Clash LT doesn't flood easily.
With a retail price in the low $100 range, the Clash LT needs to be worth the price.  I used the pair I was sent as hard as I was able and discovered that the only weak point in the design for hard use is the control knob.  I was not able to break the knob with incidental contact but occasionally it would catch on a branch or other impediment (and once on a rappel rope) and release the cable tension.  An easy enough fix, and it didn't occur often enough to be a chronic problem but it is a problem I'd like to see them fix with a locking option or at the very least a Velcro cover strap to protect the knob if needed.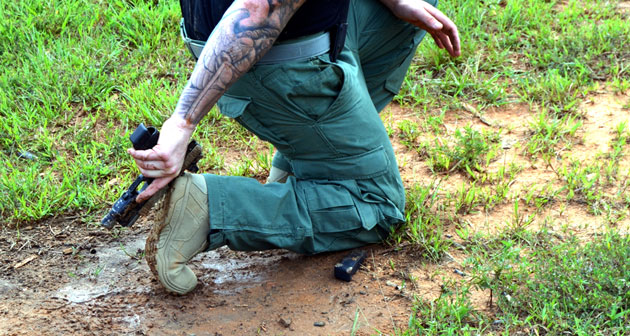 The sole is by far one of the best I've seen on a general duty boot.  It's more running shoe than hiking boot with a sturdy half-toe cap and heel pad for extra rigidity and purchase when climbing objects.  Ive had these boots for around three months now and the sole is holding up very well despite wearing them through more than a few crap environments full of rubble, broken glass, sharp rocks or general shoe removing wet Georgia clay.
I think most people would find that the boot stitching is on par with boots expected to take harsh abuse; its reinforced at the right points and streamlined where Blauer could get away with it to maintain comfort.
Is it the best boot ever?  I'm the wrong guy to ask because I don't even like boots, however I will say that this is one of the best general duty boots I've worn and I've hated almost every pair of boots I have ever encountered.  If you don't do much mountaineering and wear pants-over as opposed to blousing, the knob is unlikely to be an issue and you won't be disappointed by the comfort or ease of wearing the Blauer Clash LT.