In the world today, where carrying overt defensive tools such as folding knives and firearms will get you a second look, there stands a niche for tools that can be discreetly carried in non-permissive environments. Chris Watkins, an active duty United States service member as well as a part time self-defense instructor, designed a tool for this scenario called the DE-CAP-ATURTLE.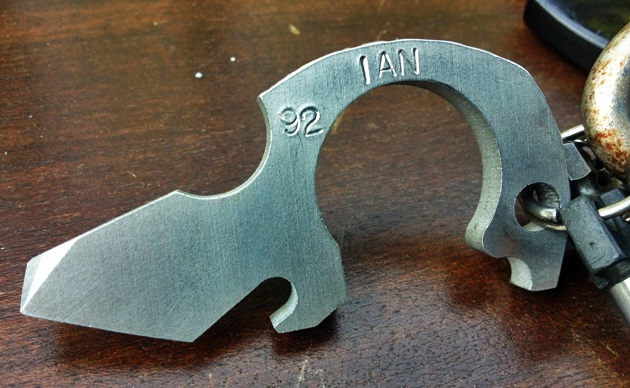 Specifications
[styled_table]
| | |
| --- | --- |
| Overall Length | 3.25″ |
| Overall Width | .25″ |
| Material | 6061 Aluminum |
| Weight | 1 ounce |
[/styled_table]
Features
First and foremost the DE-CAP-ATURTLE is primarily designed as a good old-fashioned bottle opener that the user can leave on their keys and for it to blend in on an ordinary key "fob." Unlike a traditional bottle opener, in a "worst case scenario" and with a proper grip, the user can employ the DE-CAP-ATURTLE as a defensive tool. Both Watkins and I agree on the fact that it's extremely difficult sometimes to get some people, especially our loved ones, to take self-defense seriously and even harder to get them to carry an actual blade or even a firearm to better protect themselves.
Additionally, those same people are most likely not going to have any empty hands training. The DE-CAP-ATURTLE answers this dilemma by giving the user a discreet tool that can be carried in various non-permissive environments without a single glare and have a quality defensive tool that can be employed with minimal training.
Watkins' wife works for the Department of Juvenile Justice, which of course means that she is unable to have a firearm, a blade or even chemical spray to be able to defend herself during working hours. The DE-CAP-ATURTLE gives her at least a little bit of an advantage if she is faced with a "worst case scenario." This is one of the many examples of why Watkins wanted to design this type of tool.
Blade Design
The bottom edge of the tip is the sharpest point, yet it will not cut through pockets. The nose/tip design on the DE-CAP-ATURTLE is similar to what's known as the "BESH-Wedge." The "BESH-Wedge" was designed by Special Operations soldier Brent Beshara when trying to design a double edge dagger that would not break at the tip. Watkins' design is similar to Beshara's in the fact that it will not cut you like a traditional blade if you run your finger over it. However, if applying aggressive downward strikes though with the DE-CAP-ATURTLE in your hand, the slashes would be devastating.
According to Watkins, "Untrained fighters instinctively swing their fists from top to bottom when confronted in an attack instead of punching on a horizontal plane. This technique, while ineffective by itself can be quite the defense with the addition of the DE-CAP-ATURTLE."
Bottle Opener
What can be said that the reader doesn't already know? It opens a vast amount of various bottles. From soda bottles to root beer bottles it efficiently opens the caps with ease. Above all else though, the DE-CAP-ATURTLE absolutely destroys any beer bottle that comes in its path. From Budweiser, Bud Light, Coors Light, Miller Light, Coronas, Sam Adams, along with any and all micro brews including IPA's, Pale Ale's and Stouts. The DE-CAP-ATURTLE rips all of the caps off with ease allowing the user to engulf alcohol as efficiently and effectively as possible.
Be careful though, the user may have an issue stopping themselves from continually opening said beer bottles, because after a few have already been consumed, the DE-CAP-ATURTLE seems to gain a mind of its own.
Wrapping Up
The DE-CAP-ATURTLE is a great tool for any gender or age that would like to be able to better defend themselves if they are in certain environments where other overt defensive tools are not viable. This would be a great tool to give to your loved ones whether it be your wife, daughter or son while they are away at school or leaving work at late hours of the night. Chris Watkins definitely put a lot of thought into this simple yet effective design that takes the term "key chain bottle opener" to a whole new level. I have personally tested this in the prescribed grip on various materials and it cuts through them with ease. With its inconspicuous and lightweight design you would be foolish not to add this to your EDC…especially when we all know there's always a bottle out there that needs to be opened.
You can order a DE-CAP-ATURTLEÂ by emailing Chris Watkins at chris.watkins@hotmail.com. At the time of writing, you can purchase a DE-CAP-ATURTLE for $10 plus shipping.