An All-Encompassing Ammunition Accoutrement
The G-Code and Haley Strategic Partners (HSP) D3 Carrier System collaboration, at its core, is a group of highly modular ammunition carrying equipment capable of being transformed for multiple roles and environments and adapting to the end user's requirements. 
All the pieces of the kit can be interchanged with one another to suit the mission or training regime.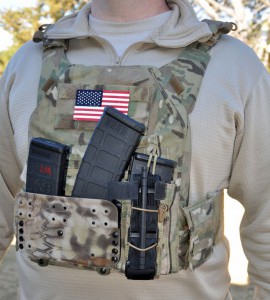 While the component configurations are quite diverse and can be moved and tweaked to the user's liking, the system itself will be typically limited to [and used mostly on] the waist belt, the thigh and possibly a plate carrier with PALS webbing.
Personally, I don't care for this or any type of hard plastic or kydex carrier to be used in lieu of soft goods on a plate carrier or chest rig. It's just not how I run things. Many users out there may opt to utilize this system as a standalone array and simply carry it over from a chest rig to a plate carrier.
Components
There are essentially only three main components to the D3 Carrier System: a double rifle magazine carrier, a single rifle magazine carrier and a single pistol magazine carrier. That's it. Each single or double magazine carrier will fit the standard USGI magazine, Magpul, Lancer, Tango Down and other magazines as well (they will not fit the Surefire Quad Stacked 60 or 100 round magazines). The pistol magazine carriers come in an OSFA configuration and seem to fit most popular double-stack magazines that I've tossed in there, to include a Power Bar.
However, it's the configurations and roles that the user puts the pieces into that make the kit so modular. G-Code offers a few different packages to get you started, but when you receive your box, you will be getting a combination of those three components.
The subcomponents consist of the ISS Leg Kit, a Shoulder Harness Adapter for chest rig conversion, MOLLE Adapters and various belt-mounted options. All of which are sold separately and are available in black, green or coyote.
Each main component of the system is available in G-Code's famous "Tactical Fuzz" in black or coyote tan or with a fabric-inlaid exterior donned in Multicam, Kryptek Highlander or Kryptek Mandrake.
Application
The roles to incorporate this kit in are only limited to the imagination and mission set. From hunting, to shooting on the range, to a carbine and pistol training class, the options for each piece is extremely vast. I've grown quite fond of the single rifle magazine belt configuration, as it stays out of the way and is very comfortable. It also looks pretty nice.
Please note: If you're one of those guys who keeps your gear pretty, then I'm sure you've already noticed that I mixed Multicam with Kryptek in the pictures. If you care about matching patterns, then you're doing it wrong. 
Summary
Overall, the HSP D3 Carrier System is a great "one stop shop" kit for range duty or for a real world mission. I really enjoy and appreciate the modularity of the system and getting the most bang for your buck with the components not being set in stone. People like to customize their gear and move things according to their personal preference that day or how the newest cool-guy has his set up. The exterior of the carriers have proven to be very durable due to G-Code's fabric wizardry. I've worn mine through the Texas woods in briar patches and brush with little abrasions (if any) and zero tears or significant scars to been seen. The pieces have gotten wet and been left out in freezing temperatures with no cracking or deformities. The Central Texas weather here has had little to no affect on any of the kit.
The last satisfactory thumbs up that I'll give is the ambidexterity of the rifle magazine carriers. No matter if you're right or left-handed, cross-draw your mags or run two mags facing opposite directions for omnidirectional targeting, you're covered. And that, I like.
If you need a solid, quality, durable kit for your tactical/outdoor activities, there's really not a more modular or extensive variant to be found out there. The options surrounding the system will make you dizzy just contemplating how you'll impress your buddies the next time you drop to a knee and dump that mag into that static piece of cardboard with the HSP D3 Carrier System strapped on while your shemagh blows ever-so-lightly in the wind.