I'm constantly on the lookout for new baseball caps to try, both because I love them, and because I hate them. I love them for obvious reasons, but I hate them because they usually don't fit/look right on my dome. It's really not my fault…
Enter the recently released Haley Strategic Troubleshooter Cap. When I saw it on the Haley Strategic Facebook page, I knew I had to give one a try. I'm glad I did.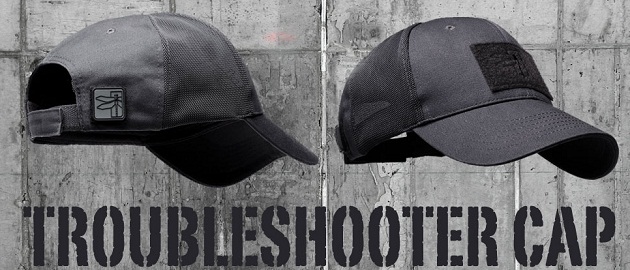 Features
The Troubleshooter cap is military/tactical style cap that is what I would call semi-structured. That is, the front of the cap holds its shape whether or not it's on your head. It has three loop panels: the 2″x3″ front loop panel that you would expect on a tactical cap, a 1″x1″ loop panel on the back, and a 1/4″x1/4″ loop panel on top instead of a button (thankfully).
Side note on hats with buttons – can someone explain why exactly? Buttons are annoying at best, and make about as much sense as a screen door on a submarine in my opinion. Just sayin'.
The cap has a hook and loop closure that is well executed – it's not bulky and it's comfortable. Once you get it adjusted to your head it feels almost as comfortable as a FlexFit cap, like this extremely comfortable Arc'teryx B.A.C. that Mr. Colion Noir shamelessly stole from me.
The cap also comes with a 1″ Disruptive Grey Dragonfly Patch, which isn't disruptive at all and looks cute great on the back.
Materials and Construction
The Troubleshooter cap is 65/35 blend of cotton and polyester, respectively, which I like. Cotton is of course comfortable, but it pretty much sucks if you ever plan on sweating. I like cotton/poly blend caps, it's a good mix of comfort and function.
The cap is a 6 panel construction, with 2 panels being soft mesh for added breathability, and the other 4 being solid.
A downside of the cap is that it's made in China.
Fit and Colors
The Troubleshooter Cap ended up fitting my head well. That's no guarantee for you of course, but there you go. Right now, the Troubleshooter Cap is only available in grey, which is a dark grey that has hints of blue in certain lighting…at any rate, the grey looks great.
Quality and Value
The Troubleshooter Cap definitely has a quality look and feel. The materials are good, and the stitching and execution on mine were both excellent.
Value is in the eye of the beholder of course, but at the time of writing the Troubleshooter Cap is going for $30 plus shipping. For me, shipping ended up being $6.95, so just shy of $37 total. In my opinion, that's not outstanding value, especially considering that the cap is made in China, but I don't think it's bad either considering the quality.
Wrapping Up
If you're in the market for a nice cap and don't mind that it's overseas produced, check out the Troubleshooter Cap. Overall, I think the Haley Strategic team did a good job with the design and execution, and the cap looks and fits great. Mine is definitely a keeper.