S3F Solutions decided to include me in their testing and evaluation of their new Glock barrels.  After Paul Van Dunk of Pace Performance ran the test barrel for a few weeks, it was sent over to me.   The barrel I received was a stainless steel MPC Glock 17 profile barrel threaded for a suppressor.  It came to me uncleaned and I don't know how many rounds were fired through it before I received it, but I didn't think that would be much of an issue, and at the end of testing I'm fairly certain it wasn't.
I am not a pistol marksman expert; I tend to focus more on the practical accuracy than some of the more exacting standards some require of their handguns for benchrest type shooting.  I also know that the handgun is capable of a greater degree of accuracy than I may be able to produce when I am in control of it.  This isn't to say that I don't appreciate barrel features and manufacturing techniques that can produce a more accurate barrel, because I certainly want all those features if I can get them.
Before I took it to the range, I checked the S3F website to see what specs they offered on the barrel.  416 Stainless steel, offered threaded or unthreaded (1/2 x 28 threads if you want them) and the rifling is pulled-broached.   The traditional Glock rifling is polygonal, not broached.  Polygonal rifling has been around for a few generations now; it's used in rifles and machine guns alike to produce a more reliable, longer-life barrel and is generally considered more accurate because the polygonal rifling provides more barrel-to-bullet surface contact and the polygonal profile prevents deformation of the bullet sometimes found with traditional rifling.
The Broached method of rifling is an increasing-diameter tool that is pulled through the barrel stock to cut, set and polish the barrel as it is pulled all the way through.  As a method to rifle a barrel, its highly effective and produces good results but some argue it's not polygonal so not as good.  Perhaps a better argument for rifles than handguns, as the average handgun shooter is unlikely to notice the difference between rifling methods.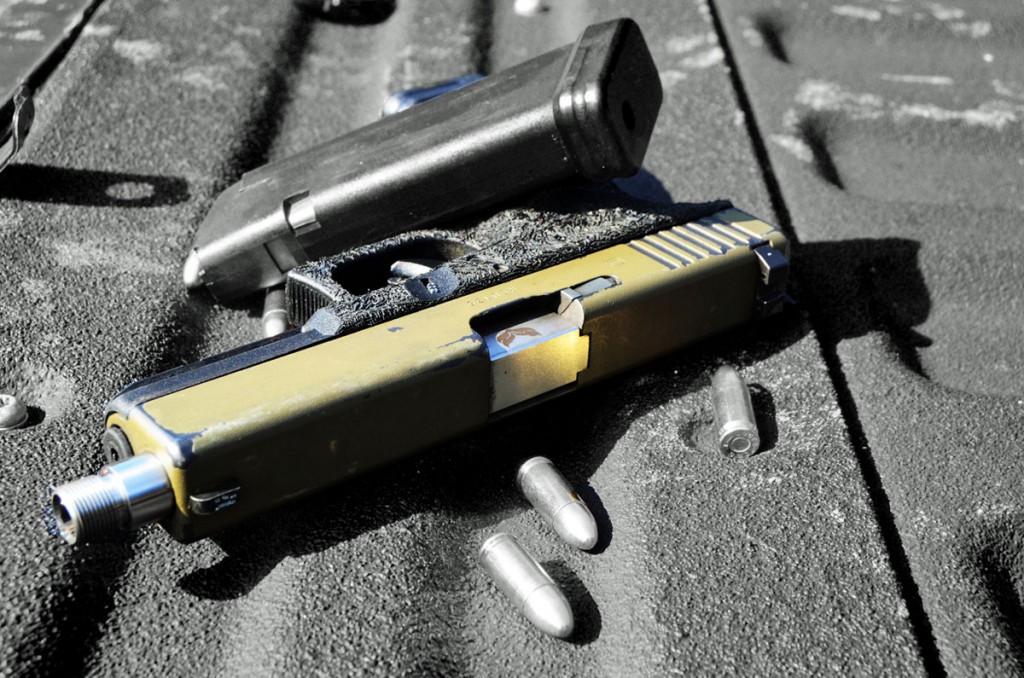 For barrel testing, I dropped the S3F into my oldest Gen 4 Glock 17.  This workhorse just celebrated its 20K rounds fired birthday and I was personally curious if I would see any remarkable difference between the stock 20K fired barrel and the S3F.  My testing was pretty straightforward, 200 rounds of Magtech 115 grain and then an accuracy check.  Even starting off dirty, there was little feed resistance and I didn't experience any malfunctions during the test.  Any handgun I test gets two steel tests and a varied number of paper accuracy checks depending on what's required.
My first test for the S3F barrel was a 150 yard shot on a body size steel target.  Obviously this is way outside of normal handgun operation but it's just as much a challenge for me as it is for the gun so it's literally the first round I fire.  First round out was a hit.
Next up was an 8 inch steel plate at 50 yards.  I was able to consistently pull that shot off. So far I was impressed but not won over.  I was going to wait until the final group test to pass judgment so I burned through the remaining test ammo and then set up my target for a group check; a six round group at 15 yards and a 6 round group at 25 yards.  My feelings are that any barrel should be able to stack rounds at 15 yards; that's a reasonable measure of consistency for a hand fired weapon with an objectively short barrel. A 25 yard group has become somewhat of an industry expectation, it is of course a better demonstration of accuracy consistency than 15 yards but can produce false results if the shooter isn't doing their job correctly.
The 15 yard group, as you can see was respectable.  For my 25 yard group I used a standing, supported position and put out 6 rounds as fast as I dared.  While my group was not as good as the one demonstrated by Paul Van Dunk at 25 yards, it was more than sufficient for me to be pleased with the S3F barrel.
The price point on the S3F barrels is pretty nice, they run $140 for non-threaded and $150 for threaded.  Right this minute they are available for the G17 with Glock 21 barrels not far out (they are already taking pre-orders).  The barrels are available in a few different finishes and are a great option if you want to get away from polygonal rifling or just want a barrel you can shoot lead bullets through.