UF PRO is a Slovenian company that makes clothing primarily for military and police markets, and seems to be not very well-known here in the US. This is unfortunate because UF PRO makes some really good apparel. UF PRO gear is mostly "tactical" in design, and the P-40 Classic pants reviewed here are no exception.
For several months now I have been testing a pair of UF PRO P-40 Classic pants in various environments (none of which were "tactical" by the way), including summer range sessions, fall hunting and winter outings in the mountains, and for the most part, I think they are awesome.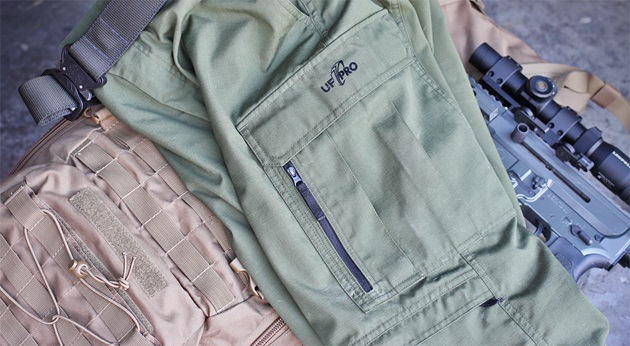 Features
The first thing to discuss with apparel is application, and as I see it, the P-40 Classic is an active pant, and as you will see, is very adaptable. While I think these pants are primarily intended for military and law enforcement, they function well in other roles as well including hunting.
Hybrid Materials
The P-40 Classic pants are a hybrid material design, and the materials vary slightly depending on which color you choose. My P-40 Classic pants are Ranger Green, and combine a poly-cotton ripstop (67% polyester, 33% cotton) with Schoeller 4-way stretch material (80% Polyamid, 10% Polyester, 10% Elastane) in areas that require elasticity.
I found these materials to be fairly quiet, so if you use pants like this in a noise sensitive environment (for me that's hunting), you shouldn't have any trouble with them swishing.
Fit and Comfort
The P-40 Classic pants have an athletic, tight fit that UF PRO calls an anatomic cut, which took some getting used to for me. UF PRO believes that with the right materials, their anatomic cut makes for a safer, more functional pant:
The big challenge for making anatomic cut pants is that the human body heavily expands and contracts in this area, while in motion. Therefore a baggy pant design is also considered as a synonym for comfort, as one thinks: "the tighter the fit, the bigger the danger to limit movability."

But if you manage to overcome this possible limitation with a clever cut and design, then tight fitting pants offer less possibility to get caught. This is definitely a safety improvement compared to the baggy pants design.

Another advantage is that whatever add-ons and functional elements tight fitting pants provide, things can be kept in place much easier. If cleverly designed, then they do not have to be adjusted with additional straps, hooks, loops and buckles.

The knee protector pockets of our pants are a good example for that. Without any additional strapping, our knee protection will always stay where it should perform.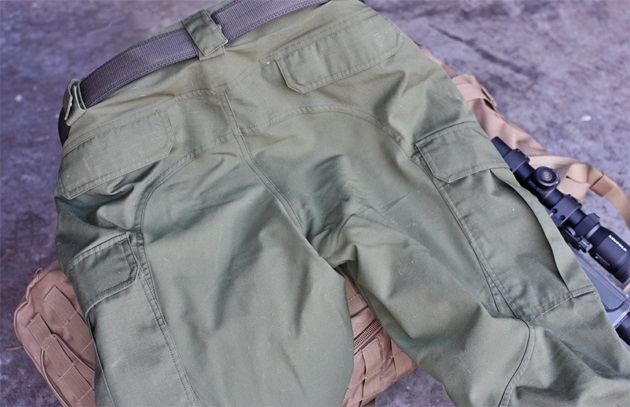 After wearing the pants I have to say I agree with them for the most part. The P-40 pants have Schoeller 4-way stretch material in all the right areas, and don't restrict your movement at all. These pants really stretch with you, and make you feel like you're wearing a pair of Chuck Norris Action Jeans. Not that I would know what those feel like or anything.
Comfort is of course subjective, and it really comes down to whether or not that slightly "clingy" feeling bothers you. It bothered me for about 5 minutes, but I quickly got used to it. I honestly think it's a mental thing for me, since I associate tight fitting pants with discomfort and restriction.
I found the pants true to size, anatomic cut considered.
Pockets, Loops and Adjustments
I know most of you guys like lots of pockets in this style of pant (the more the better, right?), and the P-40 pants again deliver. Personally, more than half of the pockets go unused for me, mostly because if I need to carry gear I bring a pack. If I'm going hunting, hiking, camping, etc, I'm going to have a pack with me.
But if you wear this style of pant, need to carry gear on your person and a pack isn't feasible or a good choice, you have lots of pocket options. If you need a different pocket configuration, because of a drop leg holster for example, you'll probably want to look at the UF PRO Tactical pants instead.
The P-40 pants have double belt loops that are stitched really well and have good spacing. I didn't have any trouble with holsters or mag carriers, and the double loops are a nice feature. The belt I wear most often is a 1.75″ Boxer Tactical Zenith which fits nicely in these loops.
The P-40 pants can also be width adjusted at the bottom of the leg if needed, and the adjustment is so well hidden that you probably wouldn't know it was there if you weren't told. Also worth mentioning is that the crotch zipper is two-way, which I really appreciate for field expedited access.
Accessories and Adaptability
As mentioned, the P-40 Classic pants are environment adaptable, both because of the breathable, durable materials, and also because of the accessories that can be added on to the pants.
Knee Protectors
The UF PRO Knee Protectors are exactly what you think they are – knee pads that can be inserted into a special pocket of the pants pictured above. UF PRO designed these knee protectors to stay in place without being strapped or buckled into place. While I didn't use the knee protectors extensively, they worked pretty well and stayed in place for the most part. If you find yourself kneeling a lot, these might be a good add-on to consider.
WINDSTOPPERÂ Lining
The UF PRO WINDSTOPPER Lining is a removable, breathable thermal insulation layer, made from a PTFE membrane with polyester flannel on the inside for comfort. Installing the WINDSTOPPER is very simple – a single zipper concealed under a flap in the pants attaches the lining. It's quick and easy, and converts the P-40 Classic pants into cold weather pants.
UF PRO states that the lining makes the pants comfortable down to -5 degrees Celcius (23 degrees Fahrenheit) but this will be subjective, as well as dependent on things like wind and moisture. In my environment (Montana mountains), I didn't even need the lining until the temperature dropped below 40 degrees Fahrenheit, and I have worn the pants with WINDSTOPPER lining in temperatures down to 7 degrees Fahrenheit, with wind chills below 0. The lining works well.
Temperature ratings on any piece of gear will depend on you and your environment, but for me, the lining makes these pants true cold weather gear.
Wrapping Up
While the P-40 Classic pants are a great active pant, there are a few drawbacks. First, at the time of writing, if you want to get them here in the US, your only option is to purchase from the UF PRO website, which you'll notice doesn't have prices listed in USD. Right now the pants are being sold for 119 €, or about $160. The other downside is that they will be shipped from Slovenia, which means there isn't an option for 2-day shipping.
Other than that, if you like the idea of an athletic fit, I highly recommend these pants. They are well made, have held up well during months of regular use, are well thought out and can be adapted for both hot and cold weather.