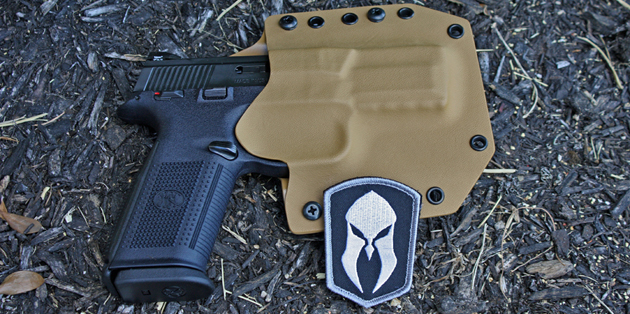 FNS-9 pictured above in a PHLster OWB custom Kydex holster.
The FNS-9 is a full-size double-action striker-fired polymer pistol chambered in 9mm made by Fabrique Nationale Herstal (FNH) in their Columbia, SC manufacturing facility. When I first saw the FNS series of pistols announced at SHOT Show 2012, I was immediately interested. I have a fair amount of trigger time with the FNP and FNX pistols (both DA/SA) by FNH and like them, but not well enough to buy one.
The FNS, being striker-fired, got me off the ledge. Yes I tend to prefer striker-fired pistols (I don't dislike DA/SA, I just generally prefer striker-fired).
The FNS-9 enters the market with some pretty stiff competition to say the least – Glock 17, Smith & Wesson M&P, Springfield Armory XDm and Ruger SR9 just to name a few. So how does it stack up?
Specifications
| | |
| --- | --- |
| Caliber | 9mm |
| Barrel | 4″ Length, 1 in 10″ RH Twist Rate, Hammer forged stainless steel |
| Slide | Stainless steel |
| Weight | 25.2 oz empty |
| Overall Length | 7.25″ |
| Overall Height | 5.5″ |
| Width | 1.55″ |
Features
There's nothing revolutionary about the FNS design, but it does have a few features that I found interesting and set it apart from the pack.
Ergonomics
The first thing that stood out to me when I picked up the FNS-9 was the ergonomics, and in a good way. The gun feels great in hand, both with the flat backstrap and the rounded backstrap. After trying both options and liking the feel of the flat strap better, I instead ended up going with the rounded for a better length of pull fit.
The FNS pistols have one of the most aggressive factory grip textures I've ever felt. Initially, I wasn't sure how well I would like the aggressive texture, say, 200 rounds into a range session, but I ended up liking it. However, if you're sensitive to aggressive textures, you'll need to do something to it make this gun work for you, like hit it with sandpaper to take it down a bit.
Trigger
One of the things that made me want to give the FNS a try in the first place was the great reports about the trigger. Things like "the best striker fired trigger on the market." While I did not find this to be true, it does have some good qualities.
The pull is rated by FNH at between 5.5 and 7.7 lbs. My FNS started off a bit on the stiff side, but after 1,000 rounds it's right at a 6 lb pull. It has a very clean break with little or no over travel and a short reset that is easy to feel. Overall, a pretty darn good trigger once you get it broken in.
Manual Safety
I don't like manual safeties, but I have been known to live with them if I like the gun. The manual safety on the FNS is small, but comes off safe easily. It takes a little more determination to put the safety back on, which is probably a good thing. You certainly wouldn't want it going on safe on accident. If you like the 1911 safety, you may not like the FNS safety since it is so small. If you don't mind or like small manual safeties, you'll probably like this one. I think FNH would sell more guns if they had a no manual safety option.
Trijicon Night Sights
The FNS comes factory standard with Trijicon night sights, and is another feature that separates the FNS from the competition. The Deep-VÂ 3-dot Trijicon night sights that come with the FNS are pretty nice.
Fully Ambidextrous
All controls on the FNS are fully ambidextrous – magazine release, slide stop and safety. So if you're a lefty, there's nothing that you need to swap or live with, it's ready to go for you right out of the box.
Magazine Disconnect
Doesn't have one. Thank you FNH.
Loaded Chamber Indicator
Yes, it has one, but it's very low profile near the extractor and isn't annoying like the Ruger SR9.
Shooting Impressions
I enjoyed shooting the FNS-9, and shot right at 1,000 rounds for this review. Recoil is soft as you would expect with a 9mm, the pistol points very naturally, and is very fast moving from target to target. The gun is extremely light at 25 ounces (though not as light as a Glock 17) and just handles really well.
Reliability
Reliability was 100% over the course of 1,000 rounds fired. I shot a wide variety of ammunition through the FNS, from cheap reloads to Federal HST hollow points and many varieties in between.
I had one failure to extract with one of the cheap reloads, but upon examination of the round I found that it was not the fault of the gun. As you can see from the image, the extractor took a chunk out of the rim trying to extract. But because the casing split, it stuck part way into the chamber. Not a big deal, but since I had a photo I thought it was worth sharing.
Accuracy
Accuracy was just ok for me. It wasn't bad, but it wasn't great either. I shot the FNS quite a bit over the past month, but never got as proficient with it as I would have liked. I shot it next to my Smith & Wesson M&P, Glock 17, and Walther PPQ on several occasions, and I could never get the same groups with the FNS that I could with the M&P, Glock, and PPQ.
Over the course of my testing, 3″ groups shooting offhand at 7 yards were the norm, and the pistol almost always printed 1-2″ low at 7 yards. Again, not completely horrible, and the so-so accuracy could very well could have been me.
Wrapping Up
I really like the FNS-9, and I expect the FNS series to be pretty popular in the striker-fired market. It's a good shooting, reliable pistol with features that you don't get on other guns – fully ambidextrous controls, Trijicon night sights and a super aggressive frame texture.
Had I been able to shoot better with it, I would have kept it. As it stands, my preference would be a full-size Smith & Wesson M&P or a Glock 17.