The Ruger SR9 is a semi-automatic striker fired polymer pistol manufactured by Sturm, Ruger & Company. The SR9 has been out for several years now, but somehow doesn't seem to get as much attention as it should. I think this has a lot to do with the pistol's history.
History
Released in October of 2007, the original SR9 had a flawed trigger system. By April of 2008, Ruger had issued a recall for the SR9 because, under certain conditions, the SR9 could fire if dropped with the manual safety off and a round in the chamber (commonly referred to as the "drop test").
Recall
Ruger's SR9 recall was free of charge and worked really well. I know, because I had one of the original SR9 pistols, and sent it to Ruger for a retrofitted trigger group. It was a simple matter of filling out a form, getting a box dropped off, packing it up, and sending it via prepaid shipping to Ruger. I actually didn't mind this at all, as I was never happy with the trigger than came out of the box with the original SR9.
Specifications
| | |
| --- | --- |
| Slide Material | Stainless Steel or Alloy Steel |
| Slide Finish | Brushed Stainless or Black Nitride |
| Caliber | 9mm Luger |
| Capacity | 17+1 |
| Sights | Adjustable 3-Dot |
| Length | 7.55″ |
| Height | 5.52″ |
| Width | 1.27″ |
| Grooves | 6 |
| Barrel Length | 4.14″ |
| Twist | 1:10″ RH |
| Grip Frame | Black, High Performance, Glass-Filled Nylon |
Features
The SR9 was the first large caliber striker fired pistol developed by Ruger, and as already mentioned, the trigger was an initial miss. However, after correcting the problem, the SR9 is a great pistol, and one that I have recommended to many people over the years.
Trigger
The SR9 trigger is pretty good out of the box, and even better once it gets broken in. It's not the best out of the box striker trigger I've ever shot (that title is currently held by the excellent Walther PPQ), but a good trigger nonetheless. If you've ever shot a Glock, the SR9 feels very similar.
I find the trigger pull to be fairly smooth with a clean break, and I can shoot the SR9 pretty well. For those who do not care for the SR9 trigger out of the box, Ghost Inc makes several trigger connectors that replace the factory connector.
Ergonomics
The SR9 grip has a very slim feel to it that I really like. It fits my hand well and is very ergonomic. I can get a really high grip on the pistol, which probably contributes to the low felt recoil. For a double stack pistol, the SR9 is very thin, and because of the contoured grip, the SR9 feels thinner that its 1.27″ maximum width suggests.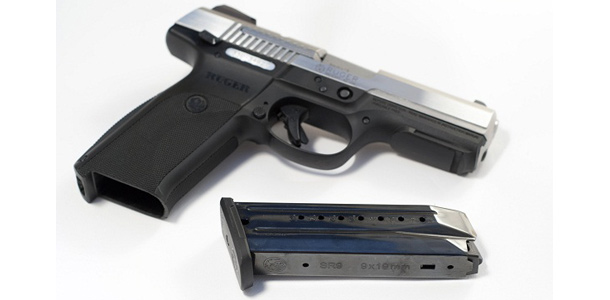 Sights
The SR9 features adjustable 3-dot sights that are pretty decent out of the box. They are a bit on the small side, but I don't have any trouble picking them up in shooting drills. Being on the small side, the sights are very precise for long distance shots.
Intended Use
The Ruger SR9 is a full sized handgun, and as such, isn't going to be a concealed carry gun for a lot of people. The SR9 is primarily a duty handgun that will be carried in an outside the waistband holster. Having said that, if you do wish to carry the SR9 concealed, check out a leather/Kydex hybrid holster like this Theis holster that we reviewed.
The SR9 also makes a great home defense or car gun. I keep mine in my truck, along with a couple extra magazines, as a backup to my EDC handgun.
Shooting Impressions
The Monderno review team has two Ruger SR9's. Between the two pistols, we have shot several thousand rounds through each pistol over the years, and have yet to have a single malfunction of any kind. As mentioned, I shoot the SR9 very well. Felt recoil is very mild, follow up shots are quick and easy, and the sights allow for good precision when shooting at a distance.
Misses
There are few things that I don't like about the SR9. First, is the loaded chamber indicator. This is a minor complaint of course, and I might be in the minority here, but for me it's worthless.
The second is the magazine disconnect. For those that do not know, a magazine disconnect is a safety mechanism that will prevent the gun from firing if the magazine is not properly seated. I understand why Ruger included these "features", but I still don't like them.
Wrapping Up
Aside from those two minor complaints, the Ruger SR9 is a great pistol that is very underrated in my opinion. At under $400, it represents one of the best values on the market today. If you're looking for a striker fired pistol that is affordable, reliable and accurate, make sure you look at the SR9.
Interested in the Ruger SR9c? Check out our review here.