Bill Coye, owner of Coye Knives, is a custom knife maker located in Tulsa, Oklahoma. Bill makes some outstanding custom knives, one of which is the Ridgeback fixed blade. The Ridgeback was love at first sight for me. For quite a few years I've been looking for a small fixed blade that I could not only carry everyday, but also one that could be used for more than just self-defense. In the Ridgeback, I finally found it.

The Ridgeback is a small, three-fingered fixed blade that I think is best described as a utility knife because of its versatility. My Ridgeback has seen a lot of action, from concealed carry to hunting and hiking to an everyday carry cutting tool, the Ridgeback is one of the most useful blades I own.
Specs and Features
| | |
| --- | --- |
| OAL | 6.25″ |
| Blade | 3.25″ |
| Blade steel | 5/32″ Bohler N690 stainless |
| Finish | Plain stonewash or acid wash/tumbled |
| Handle material | G10 |
| Accessories | Custom Kydex sheath with Tek-Lok |
Blade and Steel
The Ridgeback was my first serious hands on experience with Bohler N690 stainless steel, and after several months of moderate to hard use I'm pretty impressed. N690 is a high end stainless steel similar in composition to 440C with the addition of Cobalt and Vanadium. My guess is that this will vary depending on the heat treatment, but N690 is reputed to take and hold an edge very well which definitely has been the case with my Ridgeback.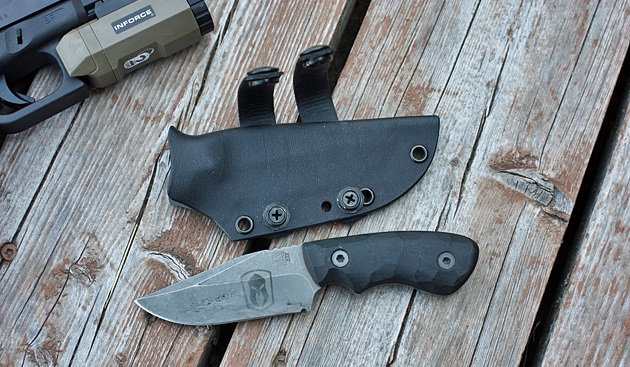 Talking with Bill about his steel choice for the Ridgeback (and other blades) is very interesting. Bill has a really cool background that spans multiple industries and different parts of the globe, and that experience has played a major role in shaping his craft. Some of you might be wondering why he chooses to use stainless steel over carbon steel, which is something I wondered as well.
Stainless gets a bit of a bad reputation (whether warranted or not) as being harder to sharpen and maintain when compared to carbon steel. One of Bill's goals has been to prove that stainless steel can perform just as well as carbon steels if the right steel is used and more importantly, the proper heat treatment is applied. The heat treatment can literally make or break a knife, and the Ridgeback comes in at 60-61 on the Rockwell hardness scale.
Given that the Ridgeback is N690 and 60-61 on the Rockwell scale, my biggest concern was how easily I could resharpen the blade myself. Some of you guys have far more resharpening skill than I do, so this might not be a concern for you, but I think it's a big deal for most folks.
To test, the first thing I had to do was dull the edge, which took a surprisingly long time. I cut everything from paper and cardboard to rope, roots and various types of wood. Like I said, I'm impressed with N690. When it came time to touch up the edge, I was able to do so without too much of a hassle, and I'm definitely not an expert.
Having said that, if you buy a custom Ridgeback from Coye Knives, it comes with lifetime resharpening for just the cost of shipping, so if you don't want to mess with it, send it back to Bill and it will be returned to you with a hair popping edge.
The Ridgeback's blade is 3.25″ and has a hollow grind that is both functional and great looking, and again lends itself well to many different utility tasks.
Handle
The Ridgeback is a three-fingered design, meaning that most folks will only be able to get three fingers on the handle. For me this held true. My hands seem to be on the large side of average, and my little finger dangles off the end of the handle. If you have smaller hands you might be able to fit all four fingers on the handle.
The handle material is custom textured G10 and has a very comfortable shape. The knife just feels great in hand. I particularly like how the handle curves ever so slightly at the butt to almost (but not quite) form a rear quillon that prevents your fingers from sliding during hard use. Since it's made by hand, each Ridgeback handle is unique – my Ridgeback will not fit your Ridgeback's sheath.
Sheath
The sheath is a custom Kydex sheath made by hand one at a time in the Coye custom shop from .093″ Kydex. It's fairly minimalist, but I'm told an even more scaled down version is coming soon. I like the sheath – I think it functions well in the way I primarily use my Ridgeback, and that's concealed carry.
Since the question has come up, don't expect to get a "full grip" on the knife on the draw – because after-all, it's a three-fingered design. Personally, I don't have any trouble drawing the blade from either hand, but as with any knife, make sure you practice so that you don't accidentally cut yourself.
Concealed Carry
I carry my Ridgeback in the position you see above – horizontally on the belt at roughly 10-11:00, using soft loops from Index Fasteners as the belt attachment. The idea to use soft loops came from Steve Aryan at Greyfox Industries, and they work great. They work so well in fact that when you purchase a Ridgeback from Coye Knives, Bill now gives you the option of choosing soft loops or a Blade-Tech Tek-Lok. If you plan to carry your Ridgeback the same way I do, then I definitely recommend that you go with the soft loops. However, if you want to carry your Ridgeback in other configurations or want more flexibility, go with the Tek-Lok.
Either way, the knife carries really well. For a long time I have wanted to find a small fixed blade that I could comfortably carry concealed everyday that was both small enough to conceal and large enough to provide some versatility in use, and with the Ridgeback I have finally found it.
Wrapping Up
If you can't tell, I love my Ridgeback. If you can afford a custom knife and you are looking for a small fixed blade that you can carry every day, then you should definitely take a look at the Ridgeback. If you can't afford a custom knife (believe me, I can relate), then take a look at the production version of the Ridgeback made by Boker. I picked one up from Blade HQ for around $55, and if there is enough interest I will review the production version as well.
Aside from being an extremely versatile and functional design, the Ridgeback is just a thing of beauty. The photos above are all of my Ridgeback dirty after hard use, but here's a photo of a clean Monderno logo Ridgeback owned by Monderno Contributor Robbie, who also happens to be a much better photographer than me. Notice the different colored G10.
If you follow Monderno on Facebook or Instagram, you have probably seen talk of a limited run of Monderno logo Ridgebacks similar to what you've seen here. That's still happening, and happening soon. It will be a very limited run, so depending on demand, we might have to do a lottery to choose buyers. Stay tuned for details.