The RAT Model 1 by Ontario Knife Company is a folding knife in the RAT Series of knives. The knife is available in several configurations – either plain or partially serrated, and either a black or satin finished blade.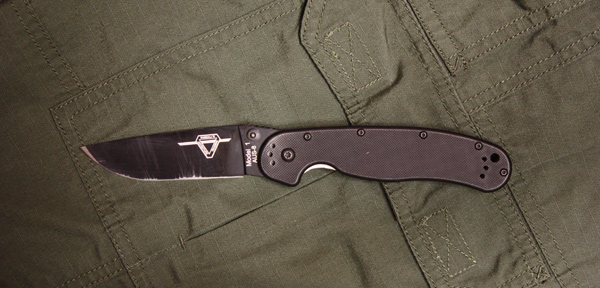 The RAT 1 features a 4-way clip position, an AUS-8 blade with a full flat grind, a lanyard hole, and nylon 6 handles. AUS-8 is a Japanese steel, which is known for taking a very fine edge due to the inclusion of vanadium. In my experience, AUS-8 sharpens easily, and has moderate edge holding and corrosion resistance.
Specifications
| | |
| --- | --- |
| Edge Type | Combo |
| Lock Type | Liner Lock |
| Deployment Mechanism | Thumbstud |
| Pocket Clip Configurations | Tip Down and Up, Left and Right Handed |
| Overall Length | 8.5 in (21.6 cm) |
| Closed Length | 5 in (12 cm) |
| Weight | 5 oz |
| Blade Length | 3.5 in (8.89 cm) |
| Blade Material | AUS-8 |
| Blade Grind | Flat |
| Blade Thickness | 0.12 in (0.30 cm) |
| Blade Color | Black |
| Blade Stamp | Model 1 AUS-8 |
| Handle Color | Black |
| Handle Material | Nylon 6 |
| Handle Thickness | 0.52 in (1.3 cm) |
Application
The Ontario RAT Model 1 is a most excellent EDC blade. For me, an EDC blade needs to be capable, strong, have a good edge, and also be relatively inexpensive. Inexpensive is of course relative, but I like to carry blades that cost no more than $50. The reason for this is that I tend to beat on the blades that I carry day to day (see the pics). I don't know about you, but I don't want to spend $100+ on a blade and then thrash on it. On the other hand, I don't want to buy junk that will fail me when I need it most.
The RAT 1 is a good combination of value, at $30 or less, and capabilities, and is light enough that you can carry it everyday no problem. The clip reverses to allow tip up or tip down carry, buries relatively deep in your pocket, and is highly functional. Fit and finish is also great, especially considering the price point.
Ergonomics
The RAT 1 fits very nicely in your hand. The knife has a certain solid heft to it at 5 ounces. That's an ounce or two more than most of my EDC blades, but the RAT 1 makes up for it with its solid liner lock, smooth deployment with its phosphor bronze washers, and excellent feel in the hand. Blade lock up is solid with no wiggle in any direction.
Testing
As you can probably tell from the pictures, I've carried mine on and off for over a year now. It has held up extremely well in a variety of tasks ranging from everyday stuff like opening packages and cutting cardboard to minor wood processing for camp fires to skinning a rabbit. I haven't done anything I would consider hard use like batoning through wood, but then again, that's not what this knife was intended for.
Wrapping Up
The RAT 1 is really a home run for Ontario. For $30 or less, it represents outstanding value in an EDC blade. The AUS-8 steel blade holds an edge well especially for the price. After a year of use, the finish on the blade and clip is a bit scuffed, but everything else remains exactly like the day I bought it – solid lockup and all.
The Ontario RAT 1 is an outstanding folding blade knife, and is easily worth much more than the $30 or less price tag (though don't tell Ontario that). As an EDC folding knife, you simply can't go wrong with an Ontario RAT Model 1.