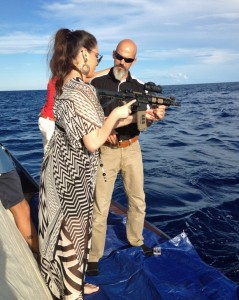 Earlier this week, my friends at PistolPay were able to set up a very unique opportunity for me to teach a couple of the most popular people on the planet how to shoot. This was an amazing opportunity to let a huge number of people who never watch Outdoor Channel or read Guns & Ammo to see a positive image of someone they admire shooting.
I was kind of surprised at the number of negative comments that the picture of me teaching a pop-celebrity how to shoot garnered. While I haven't seen her, or her family's, reality shows, I understand why many people wouldn't be impressed with her or her lifestyle. I can understand why they wouldn't see her as a role model or want her kids to see her as such.  BUT, that does't change the fact that she influences a huge number of people. I think her Facebook page has more "likes" than all the firearms instructors and competitive shooters combined… probably multiplied by 6.
The fact is that, for all the TALK about expanding the ranks of gun owners and reaching younger people & more females, the kind of ignorant responses that some have offered aren't going to encourage a twenty-something year old girl who happens to follow the Kardashians or Justin Bieber or who will vote for Obama to come to a shooting range and give it a try. In fact, some of the comments might downright chase them away from even being open to trying shooting or wanting to be part of the 'gun community'.
The Biggest Offenders have actually suggested that I should have taught her to shoot herself and/or attacked her looks and/or suggested that it would've been better if she had been wearing a bikini in the picture.  Really?  Is this how we should represent ourselves to potential new shooters or even anti-gun converts?
Those types of comments aren't going to do anything to sway someone who is on the fence about going shooting to imagine that they will be welcomed with open arms at gun store or shooting club and, in fact, could push many people away.
Whose side are you guys on?