JF Blades is a custom knife shop run by Josh Frey in small town California. I discovered Josh on Instagram a year or two ago, started following and then decided I had to try out a Hybrid.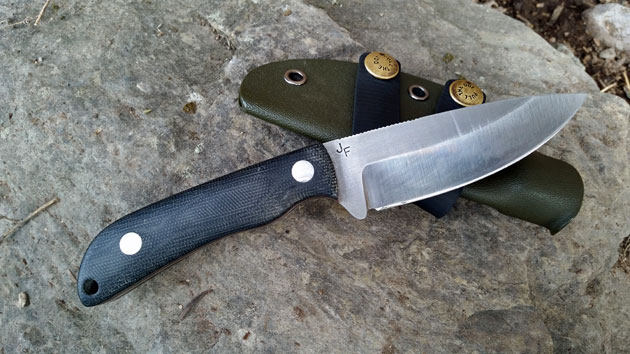 The Hybrid, now on version 2, is a small to medium (smedium?) fixed blade knife coming in at under 8″ in overall length with a 3.5″ cutting edge. I have both the original Hybrid, and the improved Hybrid 2.0. Version 2 of the Hybrid added some ergonomic improvements, and changed the blade steel from 1084 to A2. I've been carrying the Hybrid nearly every day for many months now, and it has become one of my absolute favorite fixed blade knives for its functionality and versatility.
Specs
| | |
| --- | --- |
| OAL | 7.875″ |
| Blade | 3.5″ Cutting Edge |
| Blade Steel | .135″ A2 Tool Steel |
| Weight | ~5 oz. without sheath |
| Finish | Several options to choose from |
| Handle material | Canvas or Linen Micarta |
| Sheath | Custom Kydex |
Blade and Steel
The Hybrid is made from A2 Tool Steel, which I'm very happy with after months and months of hard use. A2 is an air hardened, high carbon steel with a good combination of strength and toughness. You can check out the technical data on A2 steel here, but charts can only tell you so much in my opinion. Heat treat, blade design and thickness, edge geometry, etc, all play a role in how the final product performs, so the only way to truly know how a knife will perform is to use it. More on that in a bit.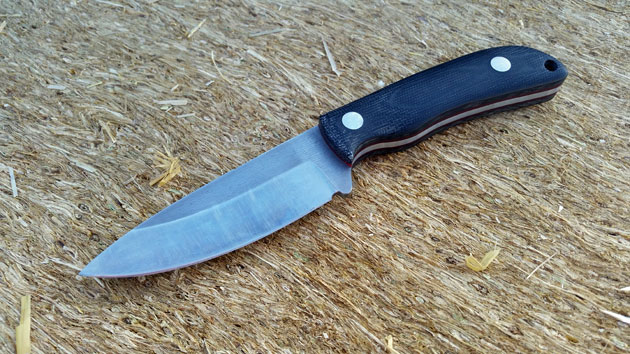 High carbon steel of course will rust more easily than a "stainless" steel, which isn't a big deal, but something to be aware of. For example, my Hybrid developed a bit of light surface rust following an antelope hunt last fall, but that was because I didn't get all of the blood cleaned off after use. Take care of your blade and it will take care of you.
The blade shape is a simple and highly functional design. There are no crazy compound grinds, which look great but are less than functional in most real world use. It has a clean, high flat grind, a good amount of belly, and a gentle sweep up to a very useful and strong drop point. The Hybrid also has a 90 degree sharp spine for striking a fire steel, which works great.
Edge retention on my Hybrid has been great, and the A2 steel isn't hard to bring back to life when it's time to touch up the edge.
Thickness
The Hybrid has a blade thickness of .135″, which is one of the reasons I was drawn to the design originally. The Hybrid's thinner blade is a welcome departure from what appears to be an industry trend towards thicker knives marketed for survival/hunting/wilderness use. Talking to Josh and some other knife makers, it sounds like the reason for this "thicker is better" trend is simple: overbuilt knives sell. For whatever reason, guys just seem to like them.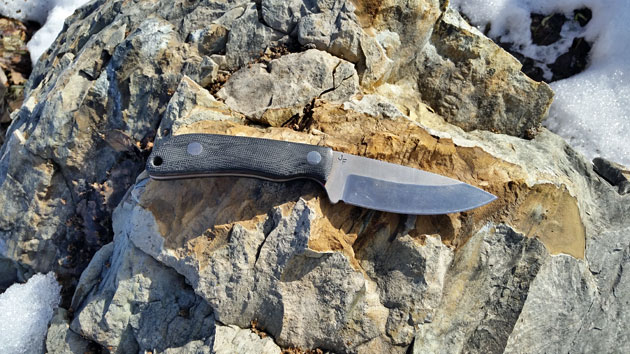 Now that's all fine and dandy, to each their own, but it tells me that most people aren't actually using their knives for anything other than cutting tape off boxes, because if they were, they'd know that thicker does not equal better in most applications. All other things being equal (grind, steel, edge geometry, etc), a thinner blade will slice and cut better, and do it with less weight. About the only application where a thicker, heavier knife is better is chopping, which I almost never do with a knife.
Handle and Ergonomics
The Hybrid handle comes with a few options. For handle material, you can choose either canvas or linen Micarta, with G10 liners as an option, and either standard (pictured here) or scalloped (textured).
Both standard and scalloped feel great in hand, ergonomics are spot on even in prolonged use. No excess rubbing or hot spots, especially with the standard, non-textured handle scales.
In Use
As I mentioned, I've been carrying the Hybrid for months. I've carried it with me on countless wilderness outings and hunting trips, gutted and skinned game, processed kindling for I don't know how many fires, prepared food, processed an antelope, etc.
The Hybrid has really lived up to its name as a do it all blade. It strikes a great balance between a large survival knife and a smaller hunting/skinning knife, and still manages to be very useful in both respects. It's not a large chopper, obviously, but it can do just about everything else.
Wrapping Up
I really can't recommend the Hybrid highly enough for everything from daily utility work to hiking, hunting, and other wilderness use. At the time of writing, you can order a Hybrid for $185, which is less than some production competitive options. That's an incredible price for such a great custom knife. If you're smart, you'll order two, put one on your belt and the other in your bug out/hunting bag.