About a month ago, I sent one of my Smith & Wesson M&P's to V&C Industries to be Cerakoted, and I was so impressed with the results that I decided I needed more cowbell Cerakoting. Around the time that my M&P came back from V&C Industries, I discovered Texas Custom Guns.
As I mentioned in my review of V&C Industries, I was very happy with their services and with the way my M&P turned out. The only downside is that they are located in Virginia, and I'm in Texas, adding shipping costs to the project. So I decided to send one of my AR's over to Texas Custom Guns and give them a try.
About Texas Custom Guns
Texas Custom Guns is owned and operated by Lonnie McEntire, and is located in Alvin, TX just south of Houston. Lonnie was born and raised in the Alvin area, and served five years in the 15th Marine Expeditionary Unit before starting Texas Custom Guns.
As the name implies, Texas Custom Guns offers a variety of services including Cerakote gun coating, repairs and gunsmithing services, FFL transfers, and coming soon, a line of custom AR-15 rifles.
AR-15 Cerakote
When I dropped my AR-15 off with Lonnie, I told him I wanted it coated in an Armor Black and MagPul Flat Dark Earth combo, and I absolutely love the way it came it out. Here's a breakdown of what he coated.
[styled_table]
| | |
| --- | --- |
| Armor Black | MagPul FDE |
| Charging handle | CTR adjustment/lock handle |
| Charging latch | Buffer tube |
| Barrel | Upper/lower receiver |
| | Gas block/tube |
| | Troy Alpha Rail |
| | Flash hider |
[/styled_table]
What really impressed me was Lonnie's attention to detail. For example, I wasn't expecting him to coat the gas tube, but he did anyways, and I certainly wasn't expecting him to take the adjustment and lock handles off the CTR and coat them a different color from the rest of the buttstock. The result…well click the image below and decide for yourself.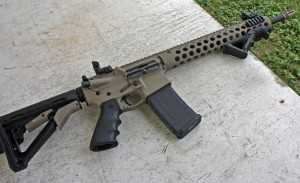 Click for a larger image.
Wrapping Up
Cerakote is pretty cool stuff. This is the second gun I've had Cerakoted, and I'm pretty sure it won't be the last, especially now that I've found Texas Custom Guns. Lonnie did an outstanding job on my AR-15, and I'm looking forward to sending him more guns for Cerakoting, as well as testing out his new line of AR-15 rifles coming soon.
Check us out on Facebook for more high resolution images.