The "expert analysis" with regards to firearms (ok, it's not just firearms, but we're going to focus on firearms for this discussion) found on major news outlets is, in most cases, awful. This includes Fox News.
It's no secret that most folks in the pro-gun movement tend to lean Republican, and who can blame them? It seems that every time we turn around, the Democrats are rallying the troops to enact some new level of tyranny, and it usually (but not always) involves the Second Amendment. Because of this tendency to be right leaning politically, it's been my observation that most folks in the pro-gun crowd get their news from right leaning news outlets, of which there's really only one: Fox News.
Related: It's Bigger than the Second Amendment
Well guess what? Fox is really no better than the rest when it comes to firearms analysis. Case in point is this report from On the Record hosted by Greta Van Susteren, where 'On the Record' took "a closer look at the type of gun used to kill Michael Brown," which incidentally is reported to be a SIG P299 chambered in .40 S&W.
The interview with the unidentified "expert" is absolutely terrible, viewer discretion advised. Not for language or adult material, but because of the incredible amount of stupid found in the video. Let me give you a few of the highlights.
The "expert" starts off by identifying the handgun, and then proceeds to tell the interviewer that "what is significant about this is the magazine – the magazine holds 12 rounds." Um, ok. If by "significant" you mean "pretty much standard for this size of semiauto chambered in .40 S&W" then yeah.
While explaining how significant the magazine capacity is to the interviewer, "expert's" P229 had a chambered round. You know this because he proceeds to insert the magazine, rack the slide, and a round is ejected. Then "expert" puts his finger on the trigger and continues to enlighten viewers as seen by the screen capture below.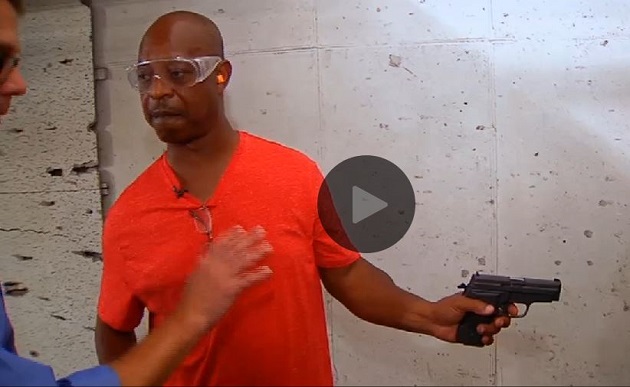 Now to one of my personal favorites, where "expert" talks about collecting DNA from Officer Wilson's gun. "You notice up front here, there's a very sharp rigid edge sight, and if you touch that, you can automatically cut yourself." Presented without comment.
A short time later, the interviewer asked "expert" if he thought it was possible that Officer Wilson was walking or moving when he fired at Michael Brown. "Expert" responded "oh absolutely, he would have had to of been [moving], and that's from eye witness accounts." The interviewer then asks for a demonstration, and "expert" is only too happy to oblige.
He proceeds to fire one-handed, while walking towards his target, until he reaches slide lock (which "expert" calls "springs back"). If I knew how to make an animated gif, I would, but instead I'll give you a screenshot. According to "expert", this is how it went down. Keepin' it gangsta.
There's more, like "expert" saying that "every law enforcement officer is taught the same identical thing" and saying that the Brown head shot came from Wilson firing at Brown while Brown was "going down," but I think you get the point. It's really ridiculous, and though I'm no lawyer, potentially slanderous.
My point in all of this is that Fox News is really no better than the rest. If you want to continue to watch Fox News (I don't), by all means go for it, but please remember that you're being fed filtered entertainment, not "expert analysis."
Here's the link to the video if you think you can stomach it, H/T to Frank Sharpe from Fortress Defense, who rightfully points out that the whole thing is one big potential jury poisoning.