When I think of a level IV plate carrier, "low profile" does not come to mind.  Many manufacturers have tried in the past to develop a low profile plate carrier with varied results, some far more successful than others.  Obviously the issue is the thickness of a level IV plate, the thickness of the material a plate carrier is made of and finally the thickness of gear pouches and the gear in them.
Using traditional materials such as nylon, the thickness can only be reduced so much before the strength of the fabric is not enough to support the common weight of plates and gear.  Ballistic plates have come a long way since the days of steel-or-nothing and they have become somewhat thinner and perhaps a bit lighter, but they are still the primary reason for thickness in a plate carrier.  As plate technology and manufacturing processes improve, we may see thinner plates in the future but for now we work with what we have or we risk a reduction in ballistic protection.
When I wore a plate carrier in the military, thickness didn't concern me, only weight.  I had no need to consider the concealability of my gear so I focused my attention on keeping it light while carrying everything I thought I might immediately need. This was a trial and error process as the plate carrier real estate just begged for pouches and pouches next to pouches until I found myself wondering if finding the proper weight to mobility ratio would require using Fibonacci Sequence and consulting a Voodoo priest for Ogun's opinion (I never did quite find the right balance, either).
During my time as a contractor, the ability to conceal my equipment while blending in to a civilian setting when it was called for became an everyday battle of wants versus needs.  I wore level IIIA soft armor without many issues, though when the need arose for a plate carrier, my options were very limited in terms of what was realistic.  I often found that I needed to carry ammunition or less-lethal at the waist and purchase clothing a size larger to aid in concealment, which only fooled those who weren't paying attention.  What I wanted in a low visibility plate carrier simply didn't exist.   When I moved on to law enforcement I pretty much forgot about the need for a concealable plate carrier because once again, concealment was not an issue (save for a few occasions).
But just because I forgot about it, that doesn't mean everyone did.  A few months ago Blue Force Gear released their PLATEminus carrier.  When I saw the press release, all the frustration I experienced with gear concealment came back to me and I wanted to get my hands on one, if only to see if my old prayers had been answered (that and I had a suspicion it could serve other purposes, but we'll get to that).  Brittnay at BFG sent me one and I set to using it as hard as I could as soon as I got it set up.
The PLATEminus weighs in at under a pound.  With the addition of a triple M4 magazine pouch and a double magazine pistol pouch, both BFG's Ten-Speed line, and finally a set of level IV Velocity Systems plates, I had a plate carrier that weighed in at just over 13 pounds.  Considering the combined weight of my plates is 12 ½ pounds, that's pretty significant.  My first test with the carrier was to run it, literally, two miles.  I put it on, laced up and did a quick 2 mile run.  My usual plate carrier two mile run time (using my Patrol Incident Gear Plate Carrier) is 15:00-15:30.  Using the PLATEminus I ran a 14:40.  For those of you who run, that 20-50 second gain should speak highly of the weight reduction.  Obviously this test doesn't prove a whole lot, as the PLATEminus is not intended to replace a traditional plate carrier such as the PIG, Mayflower or BFG's own LMAC but it does demonstrate that the overall weight of the carrier is not so cumbersome that it hinders prolonged physical movement like some plate carriers do.
Additionally, the side straps and design of the PLATEminus plate pouches gave me a bit of a concern as the straps are only 1 inch wide and the plate pockets, made of Cordura and Tweave, are allowed some movement independent of the MOLLE panels by design.  Another design feature that concerned me was the size of the plate pockets in relation to the size of my (size large) plates.  It seemed that they were free to move about, if only so slightly.  I figured the best way to test all three concerns right off the bat was a run, and at the end I did not have any concerns with the design of the plate pockets or the seemingly "too thin" side straps.
At least initially impressed, I took the PLATEminus to the range.  My concerns with weapon use focused on the side straps again, even when pulled tight I could imagine them allowing the front or rear plate to shift during certain movements (moving in and out of prone, kneeling, fetal, etc) thereby exposing that which they are intended to protect.  After 8 hours on the range running through numerous movement drills and shooting positions, I did not experience a significant shift in the front or back panels and found that the reduced weight of the carrier actually made movement more precise and faster (though that shouldn't be much of a surprise).  I know I shouldn't be one to doubt a designer who had probably already thought of these issues, but the Good Idea Fairy has visited us all at some point so verification is trust, not the other way around.
The MOLLE panels themselves are stitched to the bottom and sides of the plate pockets, presenting a 6 row by 6 column MOLLE surface for pouches.  This isn't much real estate, as the PLATEminus doesn't include a cummerbund or underarm panels for additional MOLLE, but it was designed with concealability in mind so the addition of either of these would reduce that.  The 6X6 was more than enough for me to attach a triple M4 pouch and a double pistol pouch.  With the adjustable shoulder straps I was able to get my plates to sit how I like them and the panels were long enough that my ammunition was not seated against my throat like some low visibility carriers force due to the reduced real estate.
The BFG Ten Speed pouches retain the magazine using elastic, which means there is a constant resistance as you draw the magazine from the pouch.  This resistance forces you to pull just a bit harder in some cases, which in turn pulls against the MOLLE panel.  As the panels are not totally sewn to the plate pockets, I imagined this might create a problem.  It didn't. Indexing magazines felt natural and I didn't experience any noticeable shift in the MOLLE panels.
Another excellent feature of the PLATEminus is that it breathes very well.  Between the BFG Ultracomp material and the Cordura/tweave plate pockets, the air flow behind the plates is enough to keep you comfortable, even when working in the 90 degree Georgia sun, as I was.  I'm not going to say you won't sweat, but you aren't going to suffer as you would with some other systems.
Overall comfort with the PLATEminus is excellent.  Comfort is always an issue with plate carriers, as the weight and pressure points, usually at the shoulders due to the support straps, will cause discomfort over time.  No matter how light a plate carrier is, it will eventually cause discomfort and fatigue, though the question is, how much?  With the PLATEminus, lightweight is what you get from the beginning.  With plates added and ammunition, the total weight is worn easily for extended periods of time with noticeable but very manageable fatigue.  Bottom line, its comfortable at the shoulders pushing past 10 hours and with the occasional rest period, 16-18 hours + would not cause serious discomfort that might otherwise distract from mission focus.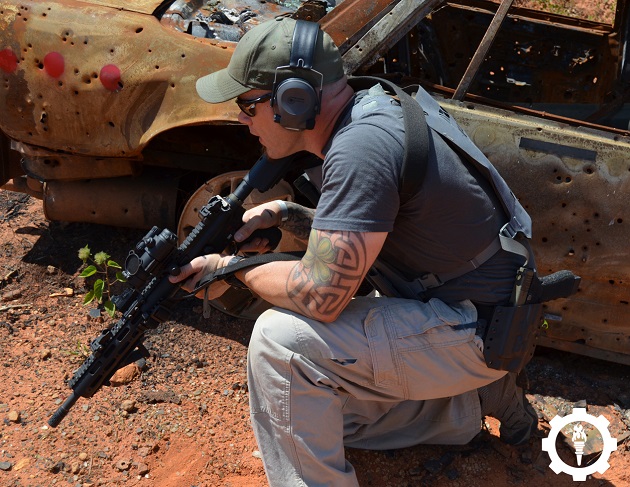 Finally we get to the primary reason I was so interested in this carrier to begin with – its intended concealment advantages.  For those working private security, plain clothed LE work or any type of operation/environment that requires level IV ballistic protection with a low visibility, the PLATEminus conceals well.  Concealability is the best I have seen with any level IV carrier, period.
With my usual size jacket, I was able to conceal the PLATEminus with magazines and gear at the waist with no significant bulge or printing issues at all. Â Â For certain garments, body types or missions, the PLATEminus can be worn slick with just the plates inserted, which allows for much better concealment and prevents a non-uniform bulge that might be present with ammo pouches and magazines.
Another option would be to run the PLATEminus over soft armor, or insert PC soft armor plates into the panel pockets.   While the PLATEminus will still have concealment issues in hotter climates, careful attention to cover garments and necessary gear attached to the PC will go far towards giving you the best concealable PC on the market that I am aware of.
For me, further concealment is augmented by to PLATEminus coming in a neutral, subdued color BFG calls Wolf Grey. It can also be had in MultiCam and Coyote Brown, but the Wolf Grey color option blends well into urban environments and does not scream "tactical gear" quite as loud as a camouflage pattern or common solid color (such as OD Green, Desert Tan, etc).  In fact, the Wolf Grey is a near perfect match for the Arc'teryx LEAF Urban Wolf color (for those who like to color coordinate their gear).
Risk versus reward is always at the front of my mind when choosing gear to go into harm's way.  The PLATEminus does not offer the same real estate for equipment and ammunition as other PCs, but it is very concealable and lightweight and as far as I am concerned, was not designed with extended missions or overt combat environments in mind.  If you are looking for a concealable plate carrier and want to run as light as possible, the PLATEminus is an excellent choice.  Backed by Blue Fore Gear's reputation for durable and long lasting gear, the reasonable retail price coupled with the versatility of the PLATEminus make it a smart purchase.