Yesterday on SPLOID, the Gizmodo spin-off blog, they reported on a different kind of survival guide – a drone survival guide (DSG). When I first saw the DSG, I wasn't sure how I felt about it, but after giving it some thought I decided it was worth passing along.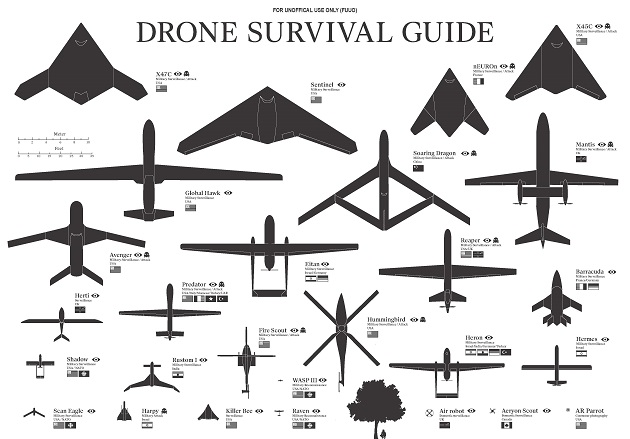 As you can see, the Drone Survival Guide contains the silhouettes of what it refers to as the "most common drone species used today and in the near future," each drawn to scale and designated with nationality as well as the drones function (surveillance and/or deadly force).
Our ancestors could spot natural predators from far by their silhouettes. Are we equally aware of the predators in the present-day? Drones are remote-controlled planes that can be used for anything from surveillance and deadly force, to rescue operations and scientific research. Most drones are used today by military powers for remote-controlled surveillance and attack, and their numbers are growing. The Federal Aviation Administration (FAA) predicted in 2012 that within 20 years there could be as many as 30.000 drones flying over U.S. Soil alone. As robotic birds will become commonplace in the near future, we should be prepared to identify them. This survival guide is an attempt to familiarise ourselves and future generations, with a changing technological environment.
You can order the DSG on Chromolux ALU-E mirrored paper for $15, or print off the guide for free. If you order the paper version, the flip side contains "tactics for hiding from drones and interfering with the drones' sensors." Why is the paper version printed on tin foil aluminum paper?
One of the techniques for misleading a drone's camera is putting reflective material on the rooftops of houses or cars (glass, mirror) to try to reflect sunlight into the drone's camera, making this poster a useful tool to interfere with the drone's sensors. On a more associative level the mirrored material reminds us that drone surveillance is ultimately people watching people. In a way we are looking at ourselves through sophisticated mirrors.
I am in no way vouching for the validity of this guide's information, I'm simply passing it along. The fact that we even have to talk about drones flying over our heads here in the US and, at the very least, spying on us, is a sad reality, but a reality nonetheless.
H/T B5 Systems