The first handgun mounted weapon light I can remember seeing was almost 20 years ago and it was hanging off the bottom of an HK USP.  I remember thinking that it was the coolest thing I had ever seen and fell in love with the gun and the light.  Fast forward to today and I still love the USP and its innovative rail system that is molded into the polymer frame.  If not for this innovation the Glock 22 I carry for work wouldn't have the rail it does, and I wouldn't have a light hanging from it either.  But this article isn't about the USP or my Glock, it's about training with a weapon mounted light.
In the past, carrying a weapon with a light mounted to it was typically only a MIL/SWAT thing.  Now it's common to see them on regular patrol officers and even private citizen's weapons.  Personally I think it's great as long as you realize that it is not as simple as sliding the light on your weapon and forgetting about it until it is time to use it.  Consideration must be given to what light you choose as well as how much you train with it to develop the muscle memory necessary to effectively use it when everything hits the fan and you find yourself in a stressful life or death situation.
Light Selection
The first thing I want to talk about it light selection. In a previous article I talked about lumens and what I thought was necessary for a do it all light.  I still stand behind my 200 lumen recommendation – stay at or below that level of light output.  The specific type and brand of light you choose is usually going to be a personal choice but consider a light that can be operated from either side of the weapon and stay away from pressure switches on handgun lights (more on that in a bit).  If you stick to a one of the more popular brands like SureFire or this INFORCE APL you really can't go wrong.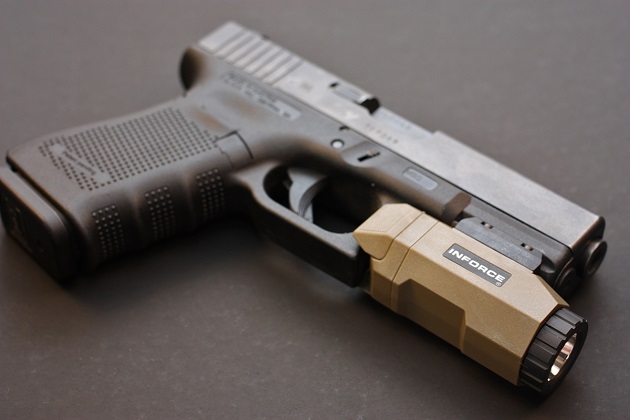 Training
So now you've picked out the latest and greatest in weapon lights to mount on the bottom of you handgun.  How often do you actually train with it? A lot of things can happen once you stick that piece of plastic or aluminum on the bottom of your gun.  Did you know that some early versions of the Gen 3 Glocks would malfunction when a light was mounted? This was very well documented in the LEO community and I ended up changing a few hundred magazine springs at my department when we went to weapon mounted lights.  It didn't affect all guns but do you know if it causes any issues with yours? Training with it will give you that answer.
The other thing that training will do is increase your comfort level on activating the light.  I see a lot of people activate the light with their trigger finger.  In my opinion you should apply the "keep your booger picker off the bang switch" principal to a light as well.  We call it a trigger finger for a reason – it goes on the trigger.  It isn't to activate a light or do anything other than pull the trigger.  Instead, I believe you should activate your light with your weak hand.
My preference is to use the thumb of my weak hand to activate my light.  It can be a little more awkward than using your trigger finger at first, but actually training with the light will help you overcome it.  This is something that can be done with dry fire practice.  Unload your weapon, double check it to be sure, and put the ammo in a different room.  Once you've done that go through repetitions of drawing your weapon and activating your light.  This will get the repetitions in that you need to develop muscle memory.  Follow that with actual range time with activations.
Avoid Handgun Pressure Switches
The last thing I want to mention is a pressure switch. Whatever you do stay away from any pressure switches on a handgun! The reason I say this is because of sympathetic muscle response.  In a stressful situation attempting to activate a light via pressure switch like the one offered by SureFire for the X300 can cause you to pull the trigger and not even realize you did it. During stress your muscles are in stupid mode and your fine motor skills are gone. The squeezing motion of your non trigger fingers can cause the trigger finger to follow with a similar motion.
Back in 2011 a Plano, TX officer shot a suspect while he was trying to activate the light on his weapon via pressure switch mounted below the trigger guard.  The official word from SureFire was they were in use by other agencies and never had an issue but they would never admit that the design was a very bad idea. Several news stories I read talked about the lack of training on the light so it illustrates the importance of training with something.  However, I don't believe any amount of training can overcome bad design and strongly recommend that a pressure switch be completely avoided on handguns.
In closing, whether you are going to carry with a weapon mounted light or without, get some training from a qualified instructor, and practice your skills on a regular basis.