I was disappointed recently when reading an article promoted by pro-gun people about a conceal carry permit holder and how he saved the day.  The saving the day part is fine; it's wonderful.  The fact that the concealed carrier admitted he never had any intention of pressing the trigger to stop the bad guys is the part that pisses me off.  Had the suspects fought him, he would not be under "hero" status but victim or dead status.
If you have that mindset of not intending to use the weapon you carry, why don't you just carry a toy?  Better yet, so you are not a liability, don't carry anything.  This lack of mindset reminds me of most open carriers that I encounter.  Condition white (that means oblivious to things around them), crappy sidearm, horrible holster, and a hope the mere presence of a firearm will stop crime.  Naturally these types have had no formal training and would rather buy more firearms and crappy knock off accessories than invest in any type of training.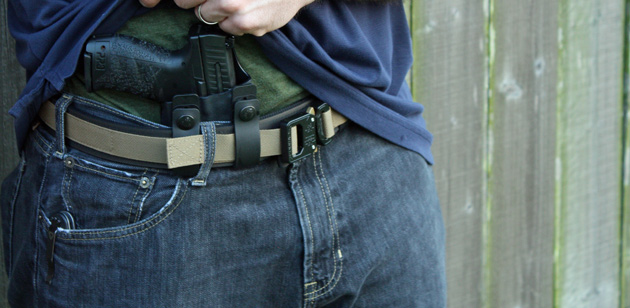 If your mindset and decision making is based off tacticool appearances you need to stay home.  Inexpensive options are hardly ever a solution to anything outside of losing money.  A batbelt full of crap is no match to a simple proven sidearm, good training, and the proper mindset.  When I mention proven, I mean it functions and provides a desired performance (which includes accuracy and dependability), not a sample of one, but a sample size of thousands that whole agencies use.
Back to the mindset of our hero who isn't willing to take a life in order to save a life – if you have in your head a preconceived idea what evil looks like you are already behind the power curve. Think about the world we live in, think about the people who are involved in evil violent action, now open your eyes to the truth – realize the fact that these people include both genders, all races, and all ages.
If you find you are without that mindset, but you want to still carry – it is time for professional instruction.  It is possible Jim-Bob with only an NRA instructor certificate in your town might be able to provide sufficient training to cure this issue, but when is sufficient a standard?  Go beyond sufficient – take a course from a recognized professional instructor who has an extensive background in the skillsets you desire.
Keep in mind there are bad guys meaner than you.  There are bad guys that will outgun you, out think you, out fight you.  Your mind needs to be already set as to what you will do when you need to act decisively.  If you aren't training, if you aren't more aware of your surroundings, if you are not using modern proven weapons and equipment – all you are is a liability and a potential victim.
---
Matt Landfair is a veteran law enforcement officer, firearms instructor, DARC LECTC-1 adjunct instructor in training, and founder of primaryandsecondary.com.