There's no shortage of Kydex holsters on the market right now, and in my opinion, that's a good thing. There are a lot of great Kydex shops to choose from, and today I want to tell you about one that I recently discovered called Liion Defense. The guys at Liion sent me an outside the waistband (OWB) light bearing holster for my Glock 20/INFORCE APL, and after a couple months of use, I'm impressed.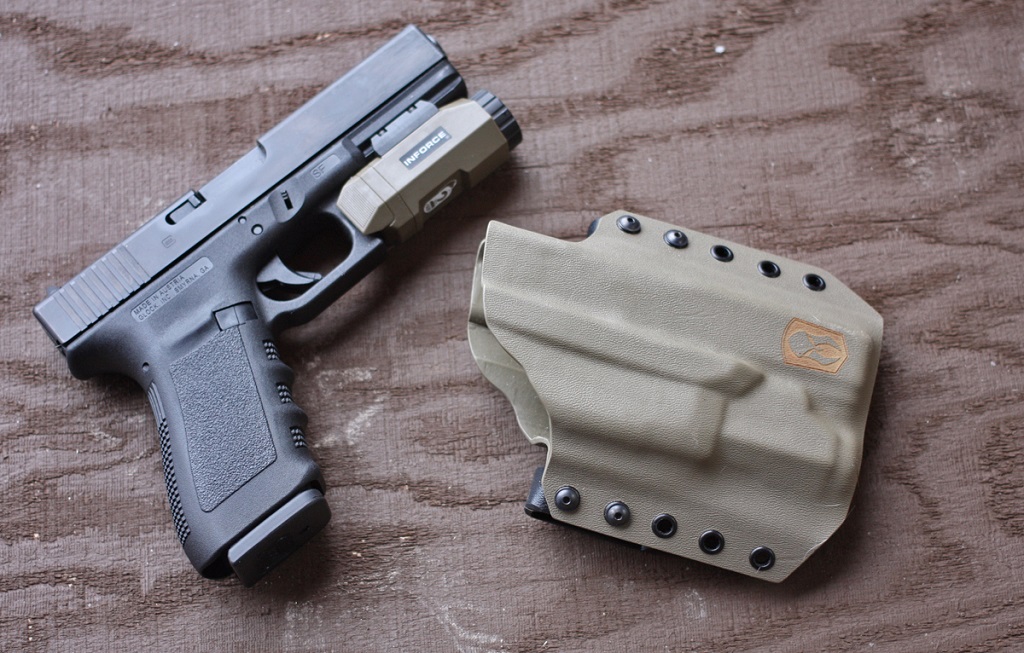 Features
Liion is a fairly new company, but you wouldn't know it looking at their gear. Liion uses .08″ thick Kydex exclusively for the added durability it provides over .06″ Kydex, and they do an excellent job with fit and finish. The edges are all smooth and uniform, and the holster definitely shows attention to detail.
Liion makes their own belt loops, which were sized and spaced correctly for my holster/belt setup. This will of course depend on how thick your belt is, which is why I generally prefer MALICE CLIPS on OWB Kydex holsters these days (a modification I learned from Off The Grid Concepts by the way) for the belt attachment mechanism. Having said that, these loops have worked well and I haven't had the need to swap them out.
Since moving to Montana last summer, my "everyday carry" has changed significantly. I went from carrying a Glock 19 concealed in the appendix position in an urban environment, to open carrying a Glock 20 outside the waistband in a very rural environment most days. In addition to being the gun I carry most often, Glock 20 is also the pistol I carry hunting/hiking/camping/etc in the mountains, so it gets a lot of use.
Given this, I had Liion make me a Glock 20 holster, and I also had them mold it for the excellent INFORCE APL. Being a light bearing, outside the waistband holster for a fairly large pistol, I was expecting the holster to have a pretty big footprint. It doesn't. The cut is about as minimalist as you can get with a pistol/light combo this size, which I appreciate. A minimalist cut for me means easier on, easier off, and it of course takes up less space on your belt.
Another Liion feature is custom laser engraving. While this isn't standard, if you call Liion, you can request a holster with your name, logo, etc laser engraved into the holster.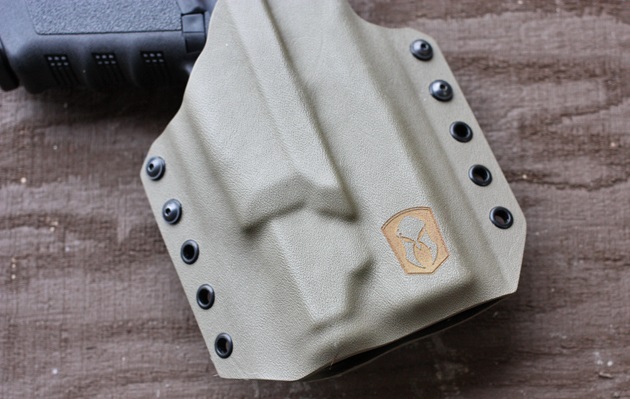 Retention is of course subjective, but my Liion Defense holster came with the right amount of retention for my preferences. My pistol clicks into place and doesn't come out when running and jumping, yet still comes out of the holster when I want it to without taking my pants with it.
Like most Kydex holsters, the Liion OWB comes with plenty of rivets to adjust ride height if you so choose.
Warranty
Liion Defense has one of the best warranties in the business – lifetime, transferable warranty with a 100% satisfaction guarantee. From the Liion website:
Best LIFETIME, Transferable Warranty in the industry — We guarantee ALL our Liion Defense Gear with a 100% satisfaction guarantee.  Our LIFETIME Transferable Warranty is on every Liion Defense product that leaves our manufacturing facility.  We provide an unparalleled product so it goes to reason that we would offer an unmatched-in-the-industry LIFETIME Transferable Warranty!
Discount Code
The guys at Liion were kind enough to provide a discount code for Monderno readers that is good now through January 7. The discount is for 12% off of your entire cart, excluding body armor. The code is:Â monderno12days
Wrapping Up
I'm very happy with my Liion Defense holster. Liion makes a quality product, and they stand behind their holsters with one of the best warranties in the business. At the time of writing, you can purchase a Liion OWB for $79Â before the discount, so if you're looking for an outside the waistband Kydex holster, give Liion a look.