I've been carrying concealed for about 10 years now, but up until a few months ago, I had never tried appendix carry. Appendix carry is where you carry your pistol inside your waistband in the appendix area. Appendix carry is also commonly referred to as AIWB, which is an acronym (because who doesn't love a good acronym?) that stands for Appendix Inside The Waistband.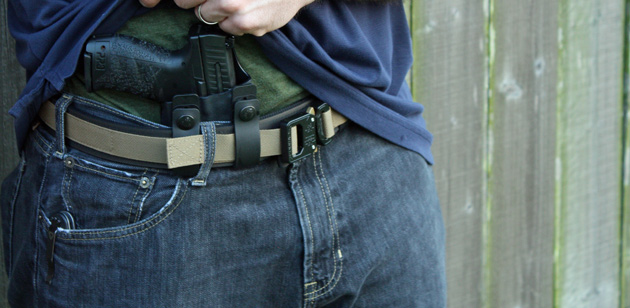 Having carried AIWB now for a few months, I decided to share my thoughts as a relative AIWB newbie to help others who are curious about this method of carry. So if you are new to AIWB, or AIWB curious, this post is for you.
My AIWB Journey
AIWB isn't new, but it's popularity has certainly been growing as of late (anecdotal evidence). Since I have a deep seated desire to fit in and be accepted by my peers, I decided to give AIWB a try.
Ok, that last part isn't exactly true. Actually, I'd say more than half of the reason I decided to finally give appendix carry a try is because of noted trainer Todd Green (ToddG) from pistol-training.com. As a long time reader of pistol-training.com, I've read Todd talking about appendix carry, both the good and the bad, and how he prefers it over other carry methods.
That, combined with my curiosity, was enough to get me off the fence and finally give it a try.
AIWB Disadvantages
If you are new to AIWB and are considering trying it out, you should first understand the disadvantages of this method of carry.
The main disadvantage of AIWB, to paraphrase ToddG, is that if you mess up, you will die. While this may be self-explanatory to a certain extent since we are discussing firearms, essentially what he's talking about is that because of the position the holster is in, the gun is pointed either at your reproductive region or your femoral artery when coming in and out of the holster.
So if you make a mistake when drawing or reholstering your pistol, it might be the last mistake you ever make. This is why I was hesitant to try AIWB for so many years. I just couldn't get over the fact that the gun was pointed at my gentleman's region coming in and out of the holster.
The second main disadvantage of AIWB is that some people find it uncomfortable when seated. In my opinion, this can be avoided by choosing a holster designed specifically for AIWB.
AIWB Advantages
The main advantages usually given for AIWB carry are concealability, comfort and speed. Here are my thoughts on these advantages 2 months in.
Concealability
I have found this to be very true. With the proper holster, I can conceal a full-sized handgun in shorts and a t-shirt. No kidding. Printing is virtually non-existent, which I find to be a constant battle in other IWB positions.
Comfort
For me, AIWB is very comfortable, but I wouldn't say that it is more comfortable than other carry methods. With the proper gear and clothing, I think just about any carry method can be comfortable.
Speed
This definitely seems to be true from my testing, but as I said earlier, I'm new to AIWB. I will know more in the coming months as I carry AIWB more, and practice drawing from concealment more.
Getting Started
I followed ToddG's advice when I started my AIWB journey. I recommend reading this AIWB thread on the pistol-training.com forum, but here's a summary of what I did.
Assess
Make sure you understand the inherent safety risks of AIWB. While there are safety risks to any carry position, most of the time your biggest risk is shooting yourself in the leg or butt. As we have already discussed, this is not the case with AIWB carry.
Holster Selection
Like most carry methods, holster selection can make or break the experience. AIWB is no exception. Choose a holster that is built specifically for AIWB carry, both for comfort and concealment as well as safety.
In the coming weeks, I will highlight some AIWB holsters that I have found to work well, like this Kydex Shield-A by Bradley Custom Concealment for my Walther PPQ.
Practice
Spend a week or two carrying AIWB around the house with a properly cleared gun. Practice drawing from concealment and reholstering, taking note of how to reholster safely. Make sure you reholster slowly.
Wrapping Up
AIWB carry is not everyone, and that's just OK in my opinion. If you think it might be for you, make sure you understand the risks, make sure you spend some time practicing before you try it, and make sure you purchase a holster specifically designed for AIWB carry.
Carrying AIWB isn't for everyone. There is absolutely nothing wrong with someone who is uncomfortable with carrying this way. It is not a badge of honor or an indication of skill. It doesn't make you cool. Chicks don't dig it. It's simply an option with benefits and costs, like any other carry method.